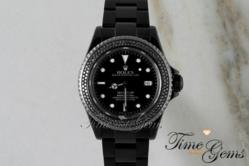 Time and Gems offers one of a kind Black Rolex Watches that can be customized for each clients. 1-888-658-5595
Los Angeles, California (PRWEB) March 13, 2013
Time and Gems, the recognized leader in the retail sell of luxury watches, announces a new addition to its lineup of watches for ladies. The Rolex Datejust is simply the best gift you could have purchased to impress her. The watch is officially certified as one of the best in terms of durability and performance.
The investment made into one of Time and Gems ladies' certifies used Rolex Datejust will last forever. All of the company's products are certified and come with a 2-year warranty. In addition, there is a 30 day risk free return policy on the watches. According to an executive at the company, the collection of luxury watches and diamond is just the beginning of a new series of items to arrive in the next months.
Ladies' Rolex Datejust are good for casual and formal wear. Their design is sophisticated and yet subtle. The watch is a great choice especially for first time Rolex buyers.
Time and Gems offers discounts of up to 50% on its collection of Ladies' Rolex Datejust and other Rolex watches for women. The discount also applies to certified pre-owned watches."All of our pre-owned watches have been fully inspected and always come with a warranty. These are some of the incentives for owning a luxury watch from Time and Gems", says the executive.
Time and Gems offers a comprehensive 2-year warranty on all products, and in the event a timepiece stops working, it can be shipped overnight back to their Los Angeles logistics facility, on Time and Gems UPS or FedEx account. They will fix or exchange the timepiece immediately at no cost. All of our timepieces are shipped with original manufacturer's serial numbers intact and independent authentication. In addition, their in-house team of Rolex certified watchmakers ensure that all the timepieces are indeed 100% original and authenticates each watch.
Time and Gems has been selling luxury watches, specifically Rolex Datejust, over the past 30 years and retailing to customers worldwide online for the past 9 years. Their collection of luxury watches including Rolex Datejust and Rolex Presidents is in the hundreds, making them the largest online retailer of Rolex watches in the USA.
Time and Gems, the leading retailer for PVD watches, is an independent company not affiliated with any watch manufacturer or distributor, including the ones mentioned in this document. Rolex is a registered trademark of Rolex Watch U.S.A. and Rolex International, including the Men's Rolex Watches model, Rolex prohibits their authorized dealers from selling online and discounting from Rolex mandated retail prices.
For more information about certified pre-owned luxury watches or to find out about Time and Gems prices, call or visit them online:
1-888-658-5595
http://www.timeandgems.com