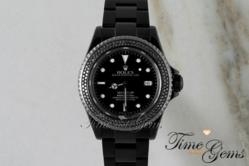 Time and Gems offers one of a kind Black Rolex Watches that can be customized for each clients. 1-888-658-5595
Los Angeles, California (PRWEB) March 23, 2013
One of the most appreciated aspects regarding wrist watches is the quality of the products. Most of the people looking to enhance their experience allow enough time to perform a research for the best watch on the market. Time and Gems suggest that their clients take their time to select a good brand; however, when it comes to watches, all shoppers agree that they would really appreciate a Rolex watch. The high quality of these watches is the main factor appreciated by consumers. This aspect comes to complete the exquisite design revealed by every Rolex watch.
Most of the sales register a large number of Rolex watches for men. These watches are preferred by most shoppers as men seem to lean much more towards wearing watches than women. It is very interesting how much people involve themselves in the proper identification of a good watch. Therefore, shoppers are always able to pick and choose the products they like and to properly decide to buy a watch of personal preference. Rolex watches for menare available in all specialized stores and they can be purchased online as well. Shoppers may take advantage of the preferred watch as often as they want. If Rolex Datejust is preferred, it can be purchased in the shortest time possible. Providers are able to supply consumers with the watch even if they don't have it in stock. The watch can be ordered and shoppers may get it sooner than they expect.
Rolex Datejust, a high quality watch, first released in 1945, was the first self-winding chronometer to display the date. It was highly regarded by all specialists and in time it received a large number of positive reviews. Time and Gems master watchmaker says: "If you like for a watch, you should read some online reviews about it. Shoppers reveal all hidden aspects of this watch and you may find out many good things in addition to the ones listed on the seller's website". All watches produced by this manufacturer carry the same quality. Shoppers are pleased to be able to access such products and most of the times leave online reviews in support of these watches. One should also keep an eye on the fake watches sold online and ensure they don't end up getting one such watch.
About Time and Gems
Time and Gems has been selling luxury watches, specifically Rolex watches, over the past 30 years and retailing to customers worldwide online for the past 9 years. Their collection of luxury watches including Rolex Datejusts and Rolex Presidents is in the hundreds, making them the largest online retailer of Rolex watches in the USA. All watches are restored by Rolex certified watchmakers to Mint condition and come with individual appraisals and a 2-Year Warranty, including the DLC watches. They can be found online at their website Time and Gems.com or at their store located in the heart of Downtown, Los Angeles.
Time and Gems, the leading retailer for PVD watches, is an independent company not affiliated with any watch manufacturer or distributor, including the ones mentioned in this document. Rolex is a registered trademark of Rolex Watch U.S.A. and Rolex International. Rolex, including the Rolex Submariner model, prohibits their authorized dealers from selling online and discounting from Rolex mandated retail prices.
1-888-658-5595
http://www.timeandgems.com/