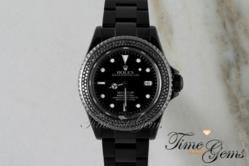 Time and Gems offers one of a kind Black Rolex Watches that can be customized for each clients. 1-888-658-5595
Los Angeles, CA (PRWEB) March 26, 2013
Time and Gems, the leader in retail sales of luxury watches, announces an increase in its inventory of luxury watches. The increase in inventory is a response to the rising demand for men and women watches. This increased demand is a good indication that an investment in luxury watches pays off.
With a clientele ranging from celebrities to A-lister, the company has a proven track record of experience and expertise in the luxury watch industry. According to a company executive, "the number one reason why people want to wear a nice watch is to show it. For businessmen and businesswomen, a nice watch is a sign of success".
In the new inventory, there are watches from the most respected brands including Omega and Rolex. The daily discounts on new and certified pre-owned watches will be applied to all watches in the inventory. At Time and Gems, anyone can find a watch that fits his/her style. With discounts of up to $1,500 off, there are more incentives to purchase a watch from Time and Gems.
Time and Gems executives pointed to statistics that indicate the longevity and durability of luxury watches. For many owning a luxury watch is usually a one time investment. A luxury watch is likely to last longer than other brand watches. A watch bought particularly from Time and Gems has a higher durability and has more chances to be passed on from generations to generations. In accordance with the statistics, a high percentage of watches sold by Time and Gems are still in used today. The executive also states that "These statistics are reasons why we are increasing our collection of Rolex watches to match the rising demand."
With a dedicated repair department, Time and Gems guarantees that each investment will be protected along the way. In addition, Time and Gems provides lots of tips to its clients on how to protect and maintain the appearance of luxury watches as if they were new. Rolex and other Luxury watches have more chances to outlive their owner than any other type of watches.
Time and Gems is one of the rarest luxury watch store with a full line of certified pre-owned watches. The company offers daily discounts on both pre-owned and new watches. The pre-owned watches are fully restored before being put on sale. Time and Gems has been selling luxury watches, specifically Rolex watches, over the past 30 years and retailing to customers worldwide online for the past 9 years. Their collection of luxury watches including Rolex, Datejusts and Rolex Submariner is in the hundreds, making them the largest online retailer of Rolex watches in the USA.
1-888-658-5595 
http://www.timeandgems.com/