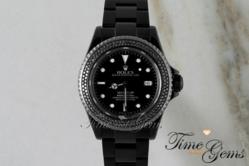 Time and Gems offers one of a kind Black Rolex Watches that can be customized for each clients. 1-888-658-5595
Los Angeles, CA (PRWEB) March 28, 2013
Time and Gems, recognized as the leading retailer for black DLC luxury watches, has announced the annual wholesale event with one time offers on all major luxury watch brands. Time and Gems is the largest online retail website for luxury watches, including Rolex, Panerai, Audemars Piguet, IWC, Cartier, Breitling, Patek Philippe, Omega and Ulysse Nardin. With a collection of over 600 unique luxury watches, the Time and Gems collection offers luxury watches for every occasion and price point. Originating in Los Angeles in 1997, Time and Gems is known as the go-to showroom for celebrities to acquire the latest trend worthy luxury watches.
Time and Gems' VP of Business Development, Alex Morano, notes, "Our 3 day only annual wholesale event is a great time to get the luxury watch you've been waiting for. All clients can get great savings on watches this week. The great thing is that the majority of our collection is certified pre-owned, which make them affordable to most people interested in a lasting investment. They are all restored to factory mint condition and include 100% authentic appraisal papers plus our industry standard warranty."
Buying a Rolex
The Rolex Brand is known for its style, luxury and comfort. One must always buy a Rolex from authorized dealers to ensure quality and a reasonable price. Many of the sellers sell fake watches. To avoid this buy your Rolex from a reputed and authorized jeweler. The sellers also give warranty cards to treat any future damage. One can buy a Rolex for sale at the lowest prices. Used and pre-owned watches are offered at reasonable prices. If you have any doubt about the quality of the watch or if you think it is fake, you are recommended to take it to the nearest authorized seller for a check. If you are still not convinced, sites online offer step by step ways of checking the legitimacy of the watch. One should also find out about the present day prices.
Many dealers offer Rolex for sale at a cut-rate. If you want to buy a Rolex online, always check the identifications of the seller and ask him for the warranty cards to be on a safe side. Counterfeiting of Rolex watches is common these days. It is almost impossible to find a difference between an original Rolex Daytona and a fake one, or any Rolex watch for that matter. The most common deception could be attaching a fake diamond bezel or dial, and sometimes even the dial hands. Take your time to scrutinize the parts and go for the best deals.
About Time and Gems
Time and Gems has been selling luxury watches, specifically Rolex watches, over the past 30 years and retailing to customers worldwide online for the past 9 years. Their collection of luxury watches including Rolex Datejusts and Rolex Presidents is in the hundreds, making them the largest online retailer of Rolex watches in the USA. All watches are restored by Rolex certified watchmakers to mint condition and come with individual appraisals and a 2-Year Warranty, including the DLC watches. They can be found online at their website Time and Gems.com or at their store located in the heart of Downtown, Los Angeles.
Time and Gems, the leading retailer for PVD watches, is an independent company not affiliated with any watch manufacturer or distributor, including the ones mentioned in this document. Rolex is a registered trademark of Rolex Watch U.S.A. and Rolex International. Rolex, including the Rolex Submariner model, prohibits their authorized dealers from selling online and discounting from Rolex mandated retail prices.