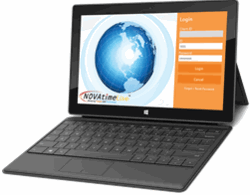 Our business partners were extremely impressed with the way that NOVAtime Live utilizes the mobility, live dashboard, and real time features of Windows 8.
Diamond Bar, CA (PRWEB) March 06, 2013
NOVAtime Technology, Inc. (http://www.novatime.com) is a forward-thinking workforce management solution development company that continues to apply the latest technology advancements to its suite of Time and Attendance/Workforce Management products and services. Today, NOVAtime announced that it has successfully hosted their 13th Business Partner Conference on February 14th & 15th at the Bellagio Hotel in Las Vegas.
The NOVAtime Business Partner Conference attendees learned about product enhancements that were completed in 2012 and caught a glimpse of the future as Frank Su, Founder and CEO, demonstrated the new NOVAtime Live product on a Microsoft Surface. "Our business partners were extremely impressed with the way that NOVAtime Live utilizes the mobility, live dashboard, and real time features of Windows 8," commented Mike Lahm, Director of Partner Sales and Strategy. "One of our partners felt that Microsoft would benefit from Frank's presentation, explaining that he now understands the excitement about this platform and its potential to deliver timely business information to decision makers."
The conference ended with the annual awards banquet during which NOVAtime recognized outstanding performances from its business partners. Andrews Technology, Inc. received the highest honor: Business Partner of the Year. Also recognized were Cincinnati Time Systems (OH) as SaaS Leader and Longley Systems for World Class Support. Individual salespeople were also celebrated for a great year including: Jamie Blundell, Andrews Technology (Salesperson of the Year); Craig Davis, Cincinnati Time Systems (MI) (Runner Up); and Craig Walls, Automated Timekeeping (Third Highest Performance). Andrews Technology and Automated Timekeeping both earned the honor of Business Development Partner of the year for their dedication and outstanding business growth in 2012.
NOVAtime will participate in the upcoming Microsoft Convergence 2013 tradeshow Booth 340 in New Orleans, from March 18th to the 21st. Please join us and learn about the products and features offered.
About NOVAtime
Established in 1999, NOVAtime has helped over 10,000 organizations around the world benefit from their use of NOVAtime Workforce Management solutions. With corporate offices located in Diamond Bar, California, NOVAtime utilizes the latest advancements in technology for its complete suite of Workforce Management solutions. This has enabled NOVAtime to serve companies with complex data collection requirements, including badge/biometric time clocks, browser-based data collection, telephone features, PDA scanners, etc. NOVAtime offers solutions for scheduling, labor allocation, job costing, work-order management, and cost center allocation. The NOVAtime 4000 SaaS solution is delivered via Software-as-a-Service and features a multi-tiered, multi-tenant infrastructure. Alternatively, the NOVAtime 4000 STAR licensed solution can be delivered on-premise, installed on the customer's servers. While NOVAtime 4000 STAR is available for companies with over 1000 employees, NOVAtime also offers the NOVAtime 4000 STARbox for companies with up to 1000 employees. For more information about NOVAtime, and to learn about how we have helped other companies control costs and remain compliant with today's challenging business requirements, please visit http://www.novatime.com or call 877.486.6682.