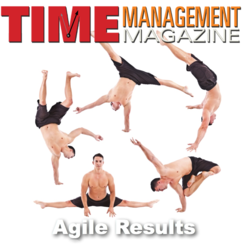 JD Meier believes that Agile Results should be free and so do we.
Winnipeg, Manitoba (PRWEB) September 19, 2012
JD Meier is an expert in Software Engineering, Project Management, and Personal Effectiveness. His book introduces the Agile Results™ system. Agile Results is a simple time management system that yields amazing results and Time Management Magazine is featuring one of JD Meier's articles in the first FREE special issue.
He says, "Be the author of your life and write your story forward. Use compelling stories, scenario-driven results, and time boxing, to improve your results, master your time management, improve your motivation as well as productivity, and finally achieve work-life balance. Get a fresh start each day, each week, each month, and each year. I use Agile Results to drive myself and lead teams at Microsoft and mentor people around the world — more than 10 years in the making."
About JD Meier's book, one of best-selling authors Dr. Rick Kirschner says that, "Agile Results delivers know-what, know-why and know-how for anyone who understands the value of momentum in making your moments count."
The title of JD Meier's article in this magazine issue is "Agile Results: A Personal Results System for Work and Life."
On September 23rd open the app store on an iPad and search for "Time Management Magazine". The app is free to download and once downloaded, it can be opened from the newsstand. Once inside, click on the "Special" issue and read JD Meier's article for FREE! A magazine representative stated "JD Meier believes that Agile Results should be free and so do we." You can read the entire Getting Results the Agile Way book on line at http://gettingresults.com/wiki/Main_Page.
About Time Management Magazine:
Time Management Magazine is an iPad only magazine that will be hitting the Apple Newsstand on September 23rd. The digital Time Management Magazine will feature articles and videos packed with valuable time management and productivity information.