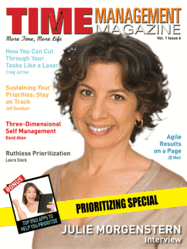 If you have a series of tasks and goals in front you, you have to decide what is most important, what is least important and work from there. If you can't arrange the task, then you are going to be bogged down in the work and get less accomplished
(PRWEB) March 08, 2013
Setting priorities is a major step toward leading a more organized life," said Time Management Magazine Senior Editor. "If you have a series of tasks and goals in front you, you have to decide what is most important, what is least important and work from there. If you can't arrange the task, then you are going to be bogged down in the work and get less accomplished."
The near ubiquitous iPad and the myriad of apps available for it continue to be a world leader in the business community. The problem comes when trying to sort through thousands of apps which claim to be the best. Time Management Magazine takes that task and culls the list.
ABOUT TIME MANAGEMENT MAGAZINE
Time Management Magazine can be downloaded by searching in the App Store for "Time Management Magazine", If on an iPad or iPad Mini select "NewsStand" as the category. Once the app is downloaded, on the app home screen a free special, single issue, or subscription is available. Time Management Magazine is available only on the iPad and iPad Mini from the Apple App Store.
Issue 6 of Time Management goes is available now from the iTunes App Store. Click here to download http://bit.ly/ZSuM06