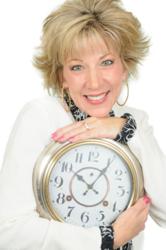 Laura Stack's article Ruthless Prioritization, dissects responsibility and walks the reader through setting better priorities
(PRWEB) March 05, 2013
"Laura Stack has given us (Time Management Magazine) some great advice and columns. We are honored to have her again provide us with some practical advice," said Glenn Watt, Senior Editor.
Stack's latest article, Ruthless Prioritization, is no nonsense. Since time is always getting away, it is time to become serious and rein it in. Stack shares how in this article.
"Laura Stack's article Ruthless Prioritization, dissects responsibility and walks the reader through setting better priorities", said Watt.
About Laura Stack:
Laura Stack is a 20 year veteran in the field of time management. Her company, The Productivity Pro®, Inc., has workshops internationally and has been featured in media on CNN, USA Today, The New York Times and CBS Early Show.
Learn more at: http://www.TheProductivityPro.com or http://www.twitter.com/laurastack.
About Time Management Magazine
Time Management Magazine can be downloaded by searching in the App Store for "Time Management Magazine", If on an iPad or iPad Mini select "NewsStand" as the category. Once the app is downloaded, on the app home screen a free special, single issue, or subscription is available. Time Management Magazine is available only on the iPad and iPad Mini from the Apple App Store.
Time Management Magazine can be downloaded directly to your iPad by clicking the following link http://bit.ly/ZSuM06