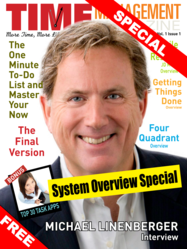 This is a step forward that is reminiscent of going to a physical newsstand and reading a couple of pages before you buy the magazine.
Winnipeg, Manitoba (PRWEB) September 20, 2012
The special free issue will be available to anyone after downloading the free app from the App Store and opening Time Management Magazine from the Newsstand app after 12:01AM PST September 23rd. According to a magazine representative "We believe that once someone has the benefit of experiencing the magazine content, they will want to read more. We decided it was worth the extra expense and time to produce the special free issue to give our readers the experience of the old magazine stand where they could browse a few pages before buying."
The special free issue contains the usual things you would expect to see in a magazine, including letter from the editor and a couple of articles. What will be different from the traditional print magazine is the use of interactive elements, such as links to websites that open in the magazine, the use of videos to support the articles and other interactive features.
The first article available in the special free issue of Time Management Magazine is a video interview with Michael Linenberger . The Detroit News has referred to Michael Linenberger as "The Efficiency Guru" and his work has been applauded by various best selling magazines like Fast Company and Investor's Business Daily. Michael Linenberger is featured in a video interview on time management techniques, productivity and best practices.
The second article available in the special free issue is "Agile Results: A Personal Results System for Work and Life." by JD Meier author of the book Getting Results the Agile Way. JD Meier's book, one of best-selling authors Dr. Rick Kirschner says that, "Agile Results delivers know-what, know-why and know-how for anyone who understands the value of momentum in making your moments count."
About Time Management Magazine:
Time Management Magazine is an iPad only magazine that will be hitting the Apple Newsstand on September 23rd. The digital Time Management Magazine will feature articles and videos packed with valuable time management and productivity information.