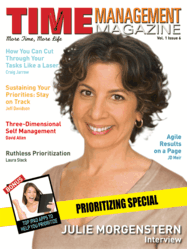 After seven issues, and being in the NewsStand Business and Investing category top 10 many times, we are very confidant that the time is right to offer our subscribers longer subscription terms
(PRWEB) March 22, 2013
Responding to reader requests for more flexibility in the subscription options, Time Management Magazine now has a five-tier program for receiving the online workplace productivity publication.
"Initially we were unsure what the response from subscribers in newsstand would be, so we only released a one month subscription option for Time Management Magazine," Senior Editor Glenn Watt said. He continued, "After seven issues, and being in the NewsStand Business and Investing category top 10 many times, we are very confident that the time is right to offer our subscribers longer subscription terms."
The new five tier subscription options are:

Single issue $4.99
1 Month subscription $2.99
3 month subscription $7.99
6 month subscription $14.99
1 year subscription $28.99
"With options that take a reader from a single edition to a year's worth of time management news and information", Mr. Watt said, "the readers are able to do exactly what Time Management Magazine tries to help them with - manage their time".
"The longer the subscription, the cheaper the price per month and per issue becomes." Mr. Watt said "this is an intentional decision to help readers save money as well as time."
"This is something our readers asked for. Feedback from our readers helps us to become better and in turn we can help our readers become better," he said. "It's an excellent cycle to be in. We improve each other."
ABOUT TIME MANAGEMENT MAGAZINE - Time Management Magazine can be downloaded by searching in the App Store for "Time Management Magazine", If on an iPad or iPad Mini select "NewsStand" as the category. Once the app is downloaded, on the app home screen a free special, single issue, or subscription is available. Time Management Magazine is available only on the iPad and iPad Mini from the Apple App Store http://bit.ly/ZSuM06 .