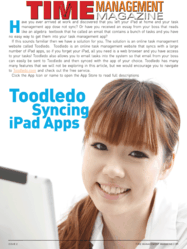 With the list of apps in the article, the only problem subscribers will have, is picking which app to use.
Winnipeg, Manitoba (PRWEB) November 03, 2012
It can be frustrating trying to find a task management app on the iPad that can tie into an existing task management system, especially if the system includes Outlook. Typically, either Outlook or the app may not sync correctly. Using Toodledo solves this problem, because Toodleo used with third party tools, can sync to Outlook. With this solution, any iPad app that can sync to Toodleo instantly solves the iPad - Outlook barrier. A Time Management Magazine staff member said "The article is a fantastic resource that solves many of the problems iPad users encounter when they are using a Windows environment at work with their iPad. With the list of apps in the article, the only problem subscribers will have, is picking which app to use."
Toodledo has many other benefits as well, such as forwarding an email to Toodledo which will automagically turn it into a task. In addition Toodleo offers access to all of your tasks on the web and can sync with many other mobile devices and applications.
About Time Management Magazine:
Time Management Magazine can be downloaded by searching in the App Store for "Time Management Magazine", If on an iPad or iPad Mini select "NewsStand" as the category. Once the app is downloaded, on the app home screen a free special, single issue, or subscription is available.
Time Management Magazine is available only on the iPad and iPad Mini from the Apple App Store.
Those who purchase a subscription for the magazine will instantly receive a 40% discount on the cover price of the magazine and a 1-month free trial. In addition to these savings, those who opt-in to the mailing list will receive an additional free month. That would mean it is possible to receive 2 months of Time Management Magazine absolutely free. If a subscription is started prior to November 4th, not only will the benefits outlined apply, issue 1 will also be available without additional cost. After November 4, Issue 1 will only be available as an individual purchase price of $4.99 USD.