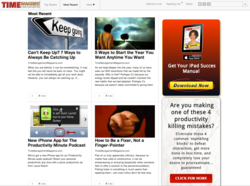 In short this makes the website a clearinghouse for information on time management and workplace productivity
(PRWEB) March 21, 2013
"You spoke. We listened," said Senior Editor Glenn Watt. "You, our readers, told us you enjoyed Time Management Magazines daily website and twitter productivity posts. You said you wanted a way to share productivity posts that you found online. You said you want an improved way to search for productivity information. We're bringing you that."
The major updates are part of the website http://timemanagementmagazine.com .

Users can submit links to time management articles they find online.
Create a reading list of their favorite articles.
Search by category of Time Management articles
"In short this makes the website a clearinghouse for information on time management and workplace productivity," Mr. Watt said.
"It just makes sense to share quality information," he said. "And it will be quality information. When a link is submitted, we're going to check and make sure it's an actual link to something our readers want. There will be no links to low quality sites."
Mr. Watt said the search by category was also a high demand request from readers.
"This too makes perfect sense. When someone is looking for a way to save time and be more productive in a certain area, say managing email, they don't need to read a piece on how to prioritize tasks. They want to know about email," he said. "So, readers can search by category now and get exactly what they need."
"We love hearing from our readers. Please, if you have a suggestion for something we can improve or an article our staff needs to write, do let us know," he said.
For more information visit TimeManagementMagazine.com .
ABOUT TIME MANAGEMENT MAGAZINE - Time Management Magazine can be downloaded by searching in the App Store for "Time Management Magazine", If on an iPad or iPad Mini select "NewsStand" as the category. Once the app is downloaded, on the app home screen a free special, single issue, or subscription is available. Time Management Magazine is available only on the iPad and iPad Mini from the Apple App Store http://bit.ly/ZSuM06 .