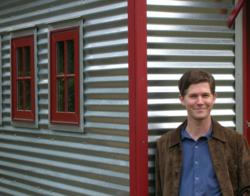 The simple, slower lifestyle my homes have afforded is a luxury for which I am continually grateful
Montreal, Canada (PRWEB) August 09, 2012
Tumbleweed Tiny House Company is hosting a workshop designed to help individuals realize a dream of affordable housing. The two day event takes place at the Montreal Bonaventure Hilton located at 900 de La Gauchetiere. Jay Shafer, founder of Tumbleweed Tiny House Company, is the featured speaker. Shafer, and his company, have appeared on The Oprah Winfrey Show, CNN's 360 with Anderson Cooper, and in Time Magazine. Tickets for the Montreal Tiny House Workshop are available online.
Tumbleweed Tiny House Company has set up several events around the US, such as the one in Montreal, as an introduction to his company - but more importantly as an introduction to the Tiny House Movement. The August 25th through 26th workshop offers people a chance to meet with Jay Shafer and ask a series of questions about how to build a house and the small house movement. Shafer's focus will be to walk the audience through the building process; from laying the foundation to setting the roof on a Tiny Home. Shafer will also speak candidly about his personal experiences as a Tiny Home owner, which includes using a composting toilet, driving his house around the country, and finding free places to live. These workshops are a perfect way to learn about building one's own home and down-sizing in a supersized culture.
"For decades corporations like those from the housing, insurance and lumber industries (under the banner of the International Code Council and state) have maintained that our houses need to be of a certain size to be legal. These mandatory consumption laws ensure a vibrant economy, as they increase spending on virtually everything- from heating fuel and property taxes to more trips to Ikea. While the program has been benefiting Corporate America for a long time, now, it wasn't until just recently that our banks realized its full potential." Says Jay Shafer on why Americans should consider owning a Tiny Home. "It turns out that when a bank tacks even larger house-size requirements onto those already imposed, they can get people to buy more house than they can afford, then, kick them out when they're unable to make payments. It's a win-win for banks at the front and the back end of the deal."
The workshops are a great way for people to learn how to build a home, gain a comprehensive understanding of the Tiny House Movement, or consider why a Tiny Home is a sound investment – even as a second home! These events are scheduled to accommodate sixty people in each workshop. As seen with prior events, Jay Shafer expects a wide demographic of people to attend and enjoy the experience with like minded people.
More about Tumbleweed Tiny House Company: Tumbleweed Tiny House Company isn't just a business, it is a movement! With over twenty small house plans to choose from, the company designs homes with a socially responsible platform. Tumbleweed markets houses that range from 65 square feet to 874 square feet. The company is founded by tiny house guru Jay Shafer - who is a recognized leader in popularizing the tiny homes concept. For more information on the company, Jay Shafer, and to view the homes, please visit us online