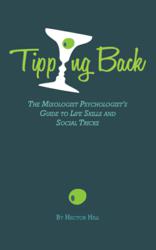 Sit back, tip back and learn a little bit about yourself and your fellow man (or woman). Insightful, hilarious and thoroughly entertaining - this book is really a fun read. And before you know it you may improve your social skills or at least be made more
Los Angeles, CA (PRWEB) December 05, 2012
At first glance, the idea that people have been paying for self-improvement sessions from a bartender may seem a little nuts. But in this nose-crammed-in-our-smartphone world of ours a lot of folks could use a refresher course in social skills, emotional intelligence and improving interpersonal relationships. And who better to teach it than the guy immersed in the drunken funhouse lab of human foibles. Is there another occupation where one is at the scene of more hook-ups or failed connections? Sorry, but I don't think Stu from Accounting has the same credentials.
One such bartender took this experience and started a therapy practice where he teaches men and women how to turn social situations to their advantage in the business arena, with their friends and family, and—let's face it, most importantly—with members of the opposite sex.
In his Commonsense Consultant self-improvement sessions he works one-on-one figuring out what holds clients back in their interactions and then trains them with new methods, applying bartending techniques such as 'Up-selling', 'Soulmating' and 'Leading the Witness'. Some clients even opt to have themselves observed surreptitiously on a first date in order to uncover their ingrained bad habits.
One might wonder who in their right mind would pay a bartender to provide therapy. Well, consider this: the price of this new book, a half hour Commonsense Consultant session and a round of cocktails all combined is still cheaper (not to mention, more fun) than 20 minutes with one's therapist talking about mommy and daddy.
The service started as a way to help folks fed up with not being able to find that special someone to share their life. From there it grew into a business serving not only the 'first-date' crowd but also those flubbing job interviews and floundering in relationships. Now these lessons are available to all in the new self-improvement ebook, Tipping Back: The Mixologist Psychologist's Guide to Life Skills and Social Tricks, which lays out a series of fun, irreverent lessons that give the reader a huge leg up on the rest of the populace when it comes to getting the most out of social situations.
(Hector has tended bar in blue-collar pubs and upscale clubs from Vermont to NYC to Los Angeles. He shares tips on social skills and improving your relationship at the self-improvement website, Tippingback.com, and he is currently booking clients for his Commonsense Consulting service).