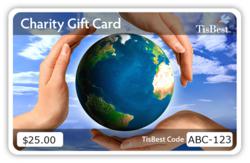 TisBest has developed a product that gives businesses a powerful tool for building relationships.
Seattle, WA (PRWEB) March 28, 2013
TisBest Philanthropy announced today that it will unveil a new charitable giving product aimed at businesses who seek to create deeper connections with their constituents using cause marketing. The unveiling will occur at the first Business4Better (B4B) conference and expo, May 1-2, in Anaheim, Calif.
"TisBest has developed a product that gives businesses a powerful tool for building relationships with their clients and communities, " said Jon Siegel, TisBest Executive Director. "We are excited to share this charitable giving product with the B4B and cause marketing communities, and strongly believe that this will fill a huge void in the expo marketing world."
TisBest Philanthropy is the leading provider of charity gift cards, donation gifts that allow the gift giver to make a charitable donation and the recipient to select which charity will receive the funds. TisBest is expanding its traditional charity gift card platform to create a business-focused cause marketing product that will help businesses of all sizes meaningfully connect with clients.
Cause marketing, the relationship between a "for profit" company and non-profit organization, has grown rapidly in recent years as more businesses begin to understand the importance of corporate social responsibility (CSR) in developing strong relationships with customers, employees, and communities. TisBest hopes to excite businesses about offering the power of choice in their cause marketing efforts.
"We sincerely believe that when someone has the ability to choose which organization they'd like to support, the experience becomes much more personal and meaningful for all parties involved," Jon Siegel said. "The bonds between that individual and the business who gave them the opportunity to choose will strengthen as a result. Our new cause marketing product speaks directly to this idea."
TisBest will be one of 200 exhibiting nonprofits at the B4B expo, which runs concurrently with the conference. Attendees will learn about the ever-changing landscape of CSR and discover new ways to make an impact through community engagement, nonprofit partner strategies, and more. Registration for the event can be found on http://www.business4better.org.
About TisBest Philanthropy:
TisBest Philanthropy is a 501(c)3 nonprofit organization dedicated to encouraging others to give gifts that give back, instead of more "stuff." TisBest created charity gift cards to do just that. Charity gift cards work like conventional gift cards, but with one meaningful exception: the recipient of THIS gift card "spends" it by choosing a charity to receive the funds.
With a TisBest Charity Gift Card, you make the donation and your recipient decides how to spend the donation, choosing from TisBest's 300+ charity partners. Learn more at http://www.tisbest.org.
About Business4Better Movement:
Business4Better (B4B) aims to build a movement of successful corporate and nonprofit partnerships that have a positive impact on communities and expand the meaning of being a better business. It is the platform that enables both businesses and nonprofits to thrive, share, inspire, educate and form partnerships that prove Business4Better benefits both communities and businesses. The B4B movement is centered around an annual industry-leading, non-commercial conference and exhibition featuring high-level keynotes, educational content, relationship building and dynamic exhibition space for nonprofit organizations. The event is part of a larger Responsible Business initiative and movement being led by UBM employees in the communities in which they live and work. Events are currently held in Brazil, India, the United Kingdom and the United States. The Business4Better Conference and Exhibition will take place May 1-2, 2013 in Anaheim, CA.
Media Contact:
Jon Siegel
Executive Director, TisBest Philanthropy
jon(at)tisbest(dot)org | 206-501-3005
http://www.TisBest.org
###