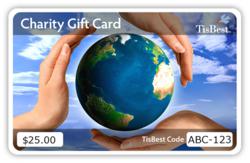 Seattle, WA (PRWEB) March 20, 2013
TisBest Philanthropy announced today that it has partnered with 10 Nevada-based charities as part of the TisBest Charity Gift Card program, a donation gift program that allows recipients of charity gift cards to choose a charity to support with the funds.
The partnerships came at the request of International Game Technology, a TisBest Philanthropy customer whose focus on corporate social responsibility inspired the company in 2012 to begin giving IGT employees TisBest Charity Gift Cards as years-of-service awards. IGT's long history of community activism and involvement has resulted in supportive relationships with dozens of local nonprofits, and the company knew that many employee gift card recipients would carry on this support using their charity gift cards.
"IGT takes seriously our role as a responsible global citizen and we encourage other businesses to take an active role in their community to help those in need," said Aimee Hoyt, IGT Vice President of Human Resources. "We greatly value TisBest and their unique gift card program, an initiative that helps our employees give back to charities near and dear to their hearts."
Recipients of TisBest Charity Gift Cards can select up to three TisBest charity partners to support with the money from the card. The new Las Vegas and Reno list joins six other local charity partner lists on TisBest.org, as well as more than 250 organizations on the national list. There is no cost to the charities to participate in the gift card program.
"We are so thankful to IGT for bringing TisBest to Nevada and for the financial commitment IGT is making to charities through the TisBest program," said Marty Ozer, Executive Director of Ronald McDonald House Charities Northern Nevada. "Our hope is that TisBest will help raise awareness and support for Ronald McDonald House Charities Northern Nevada and that individuals and corporations in Nevada will follow IGT's example and give gifts that give back."
Participating Nevada Charities include: Three Square Food Foundation, Ronald McDonald House Charities Northern Nevada, Reno Philharmonic, Nevada Women's Fund, Nevada Military Support Alliance, Moms on the Run, Girl Scouts of the Sierra Nevada, Big Brothers Big Sisters of Northern Nevada, Assistance League of Reno-Sparks, and Assistance League of Las Vegas.
"TisBest is very pleased to partner with these wonderful organizations," said Jon Siegel, Executive Director of TisBest Philanthropy. "Charity gift cards are a unique and meaningful donation gift, and we are excited that charity gift card recipients will now be able to support charities that have such a positive impact in the Las Vegas and Reno communities."
About TisBest Philanthropy
TisBest Philanthropy is a 501(c)3 nonprofit organization dedicated to encouraging others to give gifts that give back, instead of more "stuff." TisBest created charity gift cards to do just that. Charity Gift Cards work like conventional gift cards, but with one meaningful exception: the recipient of THIS gift card "spends" it by choosing a charity to receive the funds.
With a TisBest Charity Gift Card, you make the donation and your recipient decides how to spend the donation, choosing from TisBest's 300+ charity partners. Learn more at http://www.tisbest.org.
About IGT
International Game Technology is a global leader in casino gaming entertainment and continues to transform the industry by translating casino player experiences to social, mobile and interactive environments for regulated markets around the world. IGT's acquisition of DoubleDown Interactive provides engaging social casino style entertainment to more than 6 million players monthly. More information about IGT is available at IGT.com or connect with IGT at @IGTNews or facebook.com/IGT. Anyone can play at the DoubleDown Casino by visiting http://apps.facebook.com/doubledowncasino or doubledowncasino.com