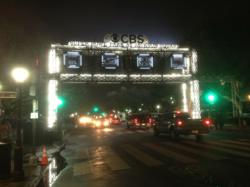 We promised that everything would be perfect and flawless – and we delivered on that commitment, just as we do with all of our projects.
Moorpark, CA (PRWEB) March 19, 2013
Lighting experts from Titan LED, a leading US-based manufacturer and OEM that specializes in energy efficient lighting, illuminated CBS' Central Broadcast Center during last month's Super Bowl in New Orleans.
The high-profile project, which involved installing approximately 200 4ft USA made LED linear tubes on a cable bridge in the heart of New Orleans' French Quarter, illuminated the bridge's beautiful faux wrought iron work, yet deftly avoided illuminating the truss supporting the bridge.
"It was the only option that had the smallest profile and that could withstand the environment," commented Bill Brennan, the renowned lighting expert who led the project for Titan LED. "We used 800 linear feet of just the right amount of lumen output to blend with the exposure level of New Orleans' night life. I still cannot think of anything in the lighting world that would have worked as well, and that's with 20/20 hindsight!"
Titan LED's 4ft USA made LED linear tubes feature:

Dazzling 1,850 "day white" lumen output
An energy saving 17 watts
290 SMD LEDs
Clear polycarbonate lensing
Instant on/off
Extruded D-shaped aluminum heat sink
No hazardous mercury or toxic chemicals
No ultra violet
No ballast required
Vibration and shock resistant
Universal voltage 110V - 277V
Flicker-free
Noise-free
Rotating end caps
Greater than 96% recyclable parts
75,000 hour lifespan
UL Listed (single ended power)
Full 5 year warranty
"Our project with CBS was as high-profile as you can get in our industry," commented Titan LED's President, CEO and Founder Brian Hennessy. "Over a billion people around the world had their eyes on the cable bridge that served as CBS' corporate headquarters, and that's not counting views over the Internet. We promised that everything would be perfect and flawless – and we delivered on that commitment, just as we do with all of our projects, whether they're high profile or not. Each of our customers are important to us, and can expect our very best, whether they're installing 200 of our 4 foot USA made LED linear tubes or 2000."
Titan LED is located at 11959 Discovery Court, Moorpark, California. For more information or media inquiries, contact John Ruscigno at 805-523-7500 or John(at)titanled(dot)net.
About Titan LED
Driven to change the world one socket at a time, Titan LED is a California-based Manufacturer and OEM specializing in Energy Efficiency and Clean Tech lighting solutions. The company offers a broad range of proprietary and cutting edge products designed to install and retrofit into a variety of existing infrastructures which include: Warehouse, Retail, Hospitals, Municipalities, & Small Businesses. Titan LED's offerings were voted "2012 Top Products" by the readers of Building Operations Management. For more information, visit the company's main website at http://www.titanled.net, or their e-commerce website at http://www.ledtitan.com.