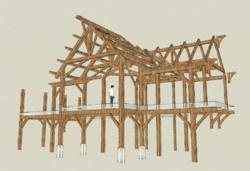 Raising a timber frame is an important and exciting event for the homeowners. Our timber frame teams make the whole process look easy, seamless
Farmington, NY (PRWEB) November 30, 2012
New Energy Works Timberframers will be raising a Douglas fir timber frame for a family home, just outside of Nashville in Carthage, TN the week of December 10, 2012. A raising is a special event, celebrating both craft and shelter.
"Raising a timber frame is an important and exciting event for the homeowners – it is an age-old craft where the bones of their new home come together," explains Drake Ambrosino, Midwest Representative for New Energy Works.
The Tennessee frame, playfully called the "House on the Hill", features king post trusses and will be situated on a steeply sloped site, with a grade change of 60 feet from the garage to the backyard. The 2,600 sq ft hybrid home was designed in partnership with S. Mitchell Hodge, AIA from Homestead Concepts/Architecture.
New Energy Works designs, crafts, and raises frames across the nation from their New York and Oregon locations. Unlike many companies, the same craftsmen that cut joinery on a frame also raise it, as they have intimate knowledge required to produce quality work, which then accompanies the project to the site. "Our timber frame teams make the whole process look easy, seamless. It is amazing how quickly the frame comes together on the site," says Ambrosino.
"Whether you're planning a home, designing for a business, curious about the use of timber as structure, or interested in heavy timber as a sustainable construction method, this is definitely an event worth seeing," continues Ambrosino.
RSVP is appreciated. Call, visit, or email events@newenergyworks for details and directions. (Subject to change due to weather, site conditions, etc.)
New Energy Works Timberframers have been designing and building environmentally responsible timber frames across the USA for nearly 30 years from their facilities in New York and Oregon. Offerings include: Timber Framing (design, engineering, manufacturing, build), Enclosure Systems, Fine Woodworking, Recycled and Sustainable wood products. New Energy Works has two LEED AP staff members, is a member of the US Green Building Council and is FSC Certified.