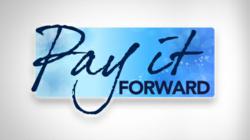 A small act of kindness can boost someone less fortunate or put a smile on the face of someone who needs to know others care.
Coral Springs, FL (PRWEB) March 11, 2013
The employees of Today in America with Terry Bradshaw (todayinamericatv.com) are always strong supporters of the community. During the month of March, they are participating in a company-wide program to Pay It Forward, and are asked to be a good deed giver and use a cash paycheck bonus to help someone less fortunate. This can be something as simple as helping someone who needs gas money or shipping a small care package to deployed troops. "Regardless of how big the problems of the world may seem, each person can make a difference by simply taking the time to show love, appreciation and kindness to the people around them," explains CEO Paul Douglas Scott, "In this case, helping someone out financially." The inspiring give-back program continues throughout the month.
Today in America also offers paid volunteer days off for staff and employees have spent them giving back to school supply drives, wounded troop support, stray animal organizations and local community initiatives. The producer of the outstanding show received a regional award for its community service efforts in 2012. They are proud leaders in the drive to Pay It Forward to their local community and to national charitable organizations.
Show host Terry Bradshaw, the former Pittsburgh Steelers quarterback is as popular today as he was during his reign as the leader of a team which won four Super Bowl titles. He is also an often requested motivational speaker, best-selling author and one of the colorful sports celebrities hosting a football pregame show. Bradshaw regularly donates time and money to local and national non-profits and religious groups.
Today in America TV explores topics which reflect the nation and its interests. It looks into the environmental and lifestyles fields and features interviews with outstanding business leaders and others who are making a difference in their industries. The program films on location and is broadcast on national and regional cable television networks. More information about it and its host is available on Pinterest, Quora, and Google+.