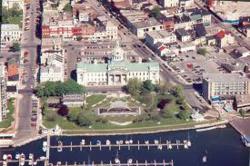 Crossing borders to find the best in Canada for our audience in the north.
Coral Springs, FL (PRWEB) September 12, 2012
The exceptional Today in America TV show is pleased to announce September air dates for eastern Ontario, Canada. The cities of Kingston and Peterborough will be able to watch the award-winning educational program on CKWS-TV CBC Affiliate and CHEX-TV CBC Affiliate respectively. These two cities are located near upstate New York, in the United States and serve both the Canadian and U.S. markets. Kingston is nicknamed "Limestone City" because many of its historical buildings are made using local limestone, and was recently ranked third as one of the "Best Places to Live in Canada" by Money Sense, Canada's Personal Finance Website. Peterborough is considered "cottage country" because it is the main recreational region in the province. The compelling show, hosted by American sports celebrity Terry Bradshaw, takes pride in bringing the best in educational programming to its northern neighbor.
No other former professional football player is as well-known as Terry Bradshaw. The once Pittsburgh Steelers quarterback has held many jobs since he retired from the grid iron in 1984. He is a published author, has acted in feature films and television sitcoms, recorded country/western music and been a spokesperson for different name-brand products. Today, Bradshaw is one of the co-hosts for a pregame show, an often requested motivational speaker, a winning example for Nutrisystem, the weight loss product and narrates a top-notch informative show which bears his name.
The Today in America Terry Bradshaw program explores topics affecting the way we live, work, play and relax. It features interviews with businesses and entrepreneurs who are making great strides in their industries to better the world. The program films on location and is edited in South Florida. Audiences across the United States and Canada are able to watch the show via regional and national cable television networks. For more information, please visit todayinamericatv.com. Sample videos are available on the show's YouTube channel and social interaction is welcomed on Facebook and Twitter.