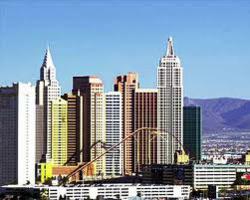 Quality programming for the sparkling city in the desert – Las Vegas.
Coral Springs, FL (PRWEB) September 27, 2012
Most people think of the flashy Nevada city as a place to gamble. While there are plenty of casinos, the city in the desert is a growing place for retirees and families. One activity these coveted people can enjoy is to watch an entertaining and informative program. Today in America TV is honored to air in Las Vegas, Nevada. The city's name means "The Meadows" and it is one of the most populous cities in the country. A little known fact about the city which performs more than 300 weddings per day – Sperling's Best Places ranked it eighth in the Most Singles in a Large City category. Those residing or visiting the city can watch the outstanding educational program on 8 News Now Cox Cable.
Former professional football player, television co-host and author Terry Bradshaw is the host of the enlightening show. He was the star quarterback for the Pittsburgh Steelers and was instrumental in leading the team to four Super Bowl victories and other national championship wins. His skill and natural leadership on the field earned him an induction into the NFL Hall of Fame. Bradshaw retired in 1984 and has worked in broadcasting as a commentator and analyst for more than 20 years. He is one of the most recognized and beloved sports celebrities in the country.
The Today in America Terry Bradshaw show covers topics which reflect the interests of the viewer. It enjoys bringing the riveting stories of personal and professional success to light and dives into topics like the environment, DIY solutions for the home and explores options in travel the entire family will enjoy. The engaging program films on location and is distributed on cable television networks geared toward business related issues in regional and national media markets. Check the air date schedule for your city, read more about the show or host Terry Bradshaw at todayinamericatv.com.