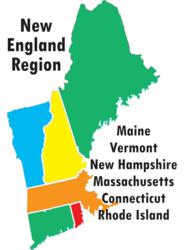 We welcome the New England area and hope they enjoy the best in quality, educational programming.
Coral Springs, FL (PRWEB) November 11, 2012
America is unique in that it has a corner of the country which directly contributed to its origination. The Today in America Terry Bradshaw show welcomes the six states of the New England area – Connecticut, Maine, Massachusetts, New Hampshire, Rhode Island and Vermont – to its growing list of media markets.
New England is responsible for some of the United States' first notable achievements in literature, philosophy and education. It was also the birth place of one of this century's favorite sports – basketball. The area was also a major player in the early rebellious days of the colonies, as they are still sometimes called. Today, the New England states are a major center in the world for education, high technology, insurance and medicine, as well as being a cool place to tour and take in fall's spectacular colors. The educational program, hosted by NFL star Terry Bradshaw, airs on CSN – Comcast SportsNet New England.
The Pro Ball Hall of Fame quarterback is one of the most well-known and beloved sports celebrities in America. His football talent and natural leadership qualities earned Bradshaw two "Most Valuable Player" titles and a spot in professional ball history. He is now a co-host for a pregame show on a national television network, a best-selling author and spokesperson for Nutrisystem.
The Today in America TV show scours the country and the globe for interesting and inspiring stories of success and leadership. It features interviews with enterprising new and small business owners. The program covers topics which relate to almost every facet of everyday living. Viewers can watch the show on regional and national cable television networks which focus on business information. Visit todayinamericatv.com for more information and to find air dates for your city. Social media fans are welcome to engage the show on Facebook, Twitter, YouTube and Google+.