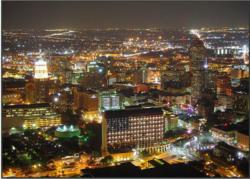 Proud to air in one of the country's top performing city for jobs – San Antonio, TX.
Coral Springs, FL (PRWEB) November 08, 2012
The Today in America Terry Bradshaw show is proud to air in San Antonio, Texas -- one of the state's largest cities. It is most famous for the fight which took place at the Alamo. But this south Texas jewel is on the map for being one of the best cities in the country for businesses. A steady stream of customers is available from the tourism industry and the military, which operates four main installations. Despite the size of the population, it retains its small town closeness with a strong and close-knit business community. The city regularly makes the Top Ten lists for best business-friendly cities and cities with the best job growth. San Antonio companies benefit from low taxes and tort reform measures take in the 1990s, as well as having many top-notch training schools. The informative program narrated by NFL star Terry Bradshaw airs on FOX KABB-TV.
Host Terry Bradshaw is a popular sports celebrity and Pro Ball Hall of Fame inductee. He was the leading quarterback for the Pittsburgh Steelers who was influential in the four Super Bowl wins the team earned. An aggravated injury forced the "man with the cannon arm" to retire in the mid 1980's. Since then, he has worked as a commentator and analyst for various television networks. Bradshaw, who is charismatic and humorous, is currently a co-host for an Emmy-winning pregame program, a spokesperson for Nutrisystem and a frequent guest on talk shows.
Today in America TV is an educational program exploring topics which are entertaining and useful. The viewer has the opportunity to learn something unheard of and exciting in industries such as education, lifestyle, health and home. It films throughout the United States and Canada, and airs on business related cable television networks in regional and national media markets. More information is available at todayinamericatv.com, or on the program's Facebook, Twitter, and YouTube pages.