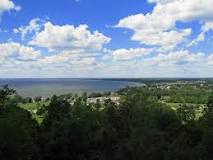 We are excited to welcome the viewers of this great part of the country to our show.
Coral Springs, FL (PRWEB) March 29, 2013
Today in America TV (todayinamericatv.com) is proud to welcome the viewers from the Green Bay and Appleton, Wisconsin area to the show. These two cities provide more paper products to the nation than any other. The first-rate informative program will air on NBC-WGVA-TV in the month of April.
The cities along the Fox River are well-known for the resources they provide to the paper making industry. Green Bay, nicknamed "the tissue paper capital of the world", got its names from the green-tinted streaks that stripe its bay in the spring. It ranks high on most Best Lists and is especially proud of its child-friendly and safe place to live reputation. The city is most famous of its Green Bay Packers professional football team, the third oldest in the National Football League.
Appleton, south of Green Bay, is a proud producer of books and other paper-related products. The city is a great place to live and raise a family because it is rich in city parks, arts, culture and sports, and has a low crime rate. One of its most famous citizens was Rocky Bleier, a former Pittsburgh Steelers halfback who played pro ball with the Today in America host and narrator.
The show's host is none other than Terry Bradshaw, the Hall of Fame quarterback from the Pittsburgh Steelers. His popularity was fueled by his dominance on the field while leading the Steelers to four Super Bowl titles and picking up two Super Bowl MVP awards. Bradshaw still dominates from the locker room to the Board room, which has made him a hot commodity in Corporate America. From motivational speaking to endorsing companies and their products to shows like this one, it is Terry's outgoing personality and credibility that keeps him busy today. When you sprinkle in some cameo appearances in a few major motion pictures and close to a hundred appearances on the Jay Leno show, the reason is clear why Terry Bradshaw is a great host and segment narrator for Today in America.
The educational program covers a wide range of topics from lifestyle to technological information. It is broadcast on many regional and national cable television networks throughout the United States and Canada. Viewers and fans are welcome to engage the show on Facebook, Twitter, and About.me.