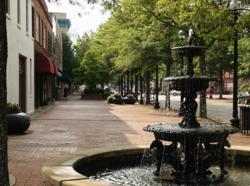 We are happy to welcome the viewers from these cities to our program.
Coral Springs, FL (PRWEB) March 23, 2013
The Today in America TV (todayinamericatv.com) show is pleased to welcome Raleigh, Durham and Fayetteville, North Carolina to its list of media markets. Residents and visitors can catch the first-rate television program, hosted by one of America's most beloved sports celebrities, airs throughout the year on ION WPRX-TV and WFPX-TV.
Raleigh is the state capital of North Carolina and is ranked number on the Forbes Magazine list of Best Places for Business and Careers. Previously, it was ranked 1st by the respected periodical on the America's Safest Cities list and Most Wired City list. It is a great place for families and kids and offers an abundance of learning opportunities with its world-renowned museums and outstanding educational institutions.
Durham is home to the world-famous Duke University as well as a cool place to find eclectic restaurants and fun things to do. Southern Living Magazine added it to its list of the South's Most Tastiest Town.
Fayetteville is home to Fort Bragg Army Installation, the country's largest one. The city is full of exciting things to do for the family from sporting events to art galleries. It received the distinguished All-American City Award from the National Civic League three times and is proud of the role the city played in American history. Today in America is excited to broadcast in Fayetteville, Durham and Raleigh, North Carolina and welcomes its viewers.
The educational and entertaining show covers a diverse range of topics from home and family to the environment, health and education. It is hosted by NFL legend Terry Bradshaw, who welcomes and guides the audience with his well-known down-to-earth and welcoming manner. Watch and learn something fascinating about subjects that intrigue the audience. Today in America airs nationally and regionally on cable television networks. More information is available on Facebook, Twitter and About.me.