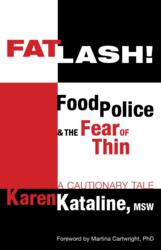 Parenting in the age of 'Toddlers and Tiaras...'
Denver, Colorado (PRWEB) June 18, 2013
The sixth season of the reality show, Toddlers and Tiaras debuted this month and with it comes another stream of stories about extreme pageant moms. Author and former child beauty queen, Karen Kataline, MSW is blasting the program, saying it "glorifyies and rewards poor parenting."
"Intentional or not, programs like Todders and Tiaras, promote this kind of dysfunctional parenting and contribute to its acceptability." Kataline said. "Parents are doing real damage to their children and then they are rewarded with the very fame and recognition they crave. What is most tragic, is that the pain these girls will face as they grow into adulthood is preventable, and it's preventable right now.
Kataline penned the award-winning memoir, FATLASH! Food Police & the Fear of Thin which details her own experience with a "stage mother on steroids." Her childhood was rife with pageants, performances and perpetual hunger. Kataline's mother was so obsessed with her weight and appearance that she put her daughter on 500 calorie-a-day diets at the age of seven.
"Who could have imagined that a program like Toddlers and Tiaras would be so popular just sixteen years after the tragic case of JonBenet Ramsey?" Kataline wonders. "One would have thought that such a program would be an anathema to public sensibilities. Instead, mothers sexualize their four-year-olds and dress them in Daisy Dukes and don't think this has a negative impact on their daughter's emotional and sexual development."
Fatlash! also introduces the term, "Princess by Proxy" in the foreword of the book. Coined and explained by Martina Cartwright, PhD., RD, "Princess by Proxy" refers to "pageant parents" who live out their dreams and aspirations through their children. Dr. Cartwright has written extensively about child pageants and eating disorders for scholarly journals and publications like Psychology Today.
Today, Kataline is a mental health professional and trainer who educates parents and young women about body image, parental boundaries, and the value of protecting childhood. While she doesn't advocate an outright ban on child pageants or even the programs that cover them, she urges audiences to stop watching and supporting them.
Karen Kataline, MSW received her master's degree from Columbia University and has practiced in a variety of non-profit and corporate settings. She has taught communications and public speaking at the New School for Social Research, Parsons School of Design in New York, New Jersey's Montclair State College, and Fairleigh Dickenson University, among others. Her book, FATLASH! won three top honors from the 2013 National Indie Excellence Awards (NIEA), a first place Evvy Award from the Colorado Independent Publishers Association (CIPA) and is a current finalist for the 2013 Foreword Reviews Book of the Year Awards.