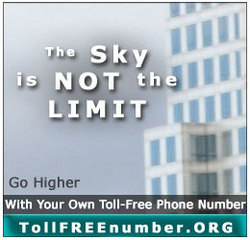 Irvine, CA (PRWEB) May 26, 2008
It can take new businesses several years to create an established professional image. Customers are sometimes wary of new ventures and may lean toward recognizable companies. But start-up entrepreneurs now have an opportunity to win customer confidence overnight.
By offering toll free phone numbers from Tollfreenumber.ORG, any business can portray a polished, established image that new customers will respond to. Toll free numbers extend market reach and draw national clientele. In fact, the average business will see a 600% increase in revenue.
Low-cost and reliable service from Tollfreenumber.ORG is perfect for the start-up business trying to get off the ground. There are no monthly fees, so owners pay as the business grows. The service allows calls to be routed to any phone or fax, offers caller ID and voicemail options, and provides vanity numbers, a word or phrase instead of a numerical sequence. And if the start-up thrives and moves to a different location or expands to several new sites, their phone number never has to change.
In an unstable economy, small businesses need reliable marketing tools to increase the flow of new and repeat business and compete with bigger, sustained companies. Toll free numbers instantly win customer confidence and give new businesses the jumpstart they need to grow into sustained companies.
To register for a new number, business owners simply sign on to the website, search available numbers and sign on for service.
Click here to continue reading this article and EDU-Channel.com...
For additional information on toll free phone numbers, contact Tollfreenumber.ORG
###