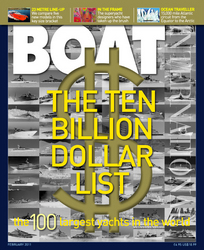 If all 100 yachts were moored bow to stern they would stretch for almost 6 miles
(PRWEB) January 25, 2011
Superyachts are the toys of billionaires, playthings of the world's über rich, floating palaces of the powerful. And they just keep on getting bigger. In the top spot this year is Eclipse, a 533 foot (162.5m) motor yacht built in Germany under conditions of great secrecy and delivered to her owner at the end of 2010. The statistics are staggering – if all 100 yachts were moored bow to stern they would stretch for almost 6 miles and their estimated combined replacement value tots up to $10 billion – equivalent to the GDP of a small country.
The luxury yachts on this list are somewhat like little states in their own right. Their operation employs hundreds – Eclipse alone has facilities for 92 crew and staff members, while number 3 in the list Al Saïd has 150 crew for 65 guests – and with their high calibre of design, state-of-the-art technology and exquisite craftsmanship, their building, maintenance and refit engages thousands in numerous industries and trades around the world. Many of the yachts come with their own fleets of tenders, submarines, water toys and helicopters. Most have pools, spas, gyms and cinemas, some have hospitals, concert halls, dance floors and even mosques. All have sumptuous interiors with the finest fittings and finishes.
For an enticing glimpse into this world, and more details on all 100 yachts in the list pick up a copy of the February 2011 issue of Boat International.
Alternatively you can view it online, or download the enhanced iPad version of the magazine directly from iTunes.
About Boat International
Published for more than 25 years, Boat International is the world's best-selling superyacht magazine and the authority on the superyacht Industry.
The 10 Billion Dollar List of 2011 - The Top 100 Superyachts
Subscribe to Boat International magazine today
For more information please contact -
Amanda McCracken - Editor, Boat International
tel +44 (0)20 8545 9330 or email pr(at)boatinternational(dot)com
# # #