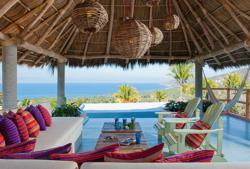 Chill out, kick back, and get naked!
Berlin, Germany (PRWEB) March 20, 2013
Welcome Beyond, a website promoting only truly original boutique hotels and vacation rentals worldwide, is starting off the new travel season with its top five must-stay places of 2013, featuring a Gippsland shack, a Cape Town guesthouse, a farm on Mount Etna, a Mexican tree house with a Jacuzzi as well as a sandy-floored beach house in Portugal.
New at Welcome Beyond is Walkerville Shack, a vacation rental set on five acres of grounds close to the Prom Coast. The rustic yet charming shack has an open plan living area and a Japanese bathhouse featuring a hot tub. The outdoor shower, dining area and the hammock allow for the perfect finale after a long day at the beach. Guests might even get a glimpse of a koala, wombat or parrot sitting in the trees around the shack. Wilson Promontory National Park is only a 30-minute drive away and the nearby city of Foster sells mouth-watering Gippsland natural beef and locally caught fish. The best thing to do, however, recaps nurse and owner Fleur is to: "Chill out, kick back, and get naked!"
Blackheath Lodge, also new member at Welcome Beyond, is a boutique guest house comprising twelve elegant rooms with an eclectic mix of contemporary, colonial and Victorian style interiors. It is located in Sea Point, the heart of Cape Town, close to world-class restaurants and the Atlantic Ocean. The lodge is known for its exclusive 24 hours service: "We believe in treating guests how we would expect to be treated and ensure that everyone gets to personally experience Cape Town." states Antony, the owner.
Formerly occupied by monks and uniquely set on Mount Etna overlooking the Mediterranean, Monaci delle Terre Nere forms part of a 40-acre organic farm. During the restoration of this historic mansion turned boutique hotel, the owner used only local materials creating a unique blend of old and new. The hotel's restaurant serves seasonal dishes, pastries from a local baker, as well as home-made bread with marmalade or quiche with wild herbs." Moreover, a new infinity pool with views over the ocean will be available from June.
Casa Dos Chicos is a luxurious tree house-like vacation rental on the Mexican Riviera with an open-air top floor, only protected by tall Palapa roofs. From up there guests can enjoy views over the tropical jungle as well as the town below while relaxing in the hammocks or in the Jacuzzi. The only disturbance might come from the light ocean breeze. Architect Patrizio Fradiani describes the style of the interiors as "modern, clean, airy, in touch with the amazing tropical nature outside and culturally connected to the history of Mexican design."
Last but not least, sandy-floored beach house located in the natural reserve of Comporta, Casas Na Areia truly makes one of the most exciting places to stay in 2013. Maintaining its historical heritage as a former fisherman's house, the architecture stays fairly minimalistic, using local materials only. The unique scenery and peace is what makes Casas Na Areia so special: sandy floors stop guests from walking fast, so life seems to slow down. "It is surrounded by rice paddies and sand dunes and looks out onto the Sado estuary famous for its stunning sunsets, salt pans, flamingos and flocks of dolphins," manager João says.
Find out more about the five hottest properties to visit in 2013 at Welcome Beyond.