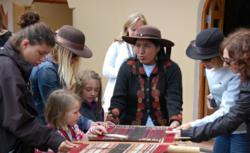 San Francisco, CA (PRWEB) January 29, 2013
Dreaming of a family Disney vacation? Between the new attractions and activities at Disneyland and Walt Disney World, not to mention Disney's award-winning cruise line and worldwide group travel with Adventures by Disney, there's no shortage of exciting vacation options for all ages and interests in destinations around the world.
"What makes a Disney vacation so special is there's something for everyone, whichever destination you choose," said Michele Himmelberg, public relations director at Disneyland Resort in Anaheim, CA. "Here at the Disneyland Resort, our guests have discovered they need several days – and nights – to enjoy all there is to see and do. With two theme parks, we have lots of thrills and exciting attractions such as Radiator Springs Racers in Cars Land. Then there's so much more – entertaining shows, lively music, festive parades, a variety of delicious food, fine dining, themed hotels and places just to play and let your imagination soar. Each experience creates a special memory, and that's the treasure you take home with you."
From land to sea, from independent travel to group trips, from the United States to Europe, there are all kinds of new and exciting ways to experience Disney this year. Top family travel experts round up a few favorites, and offer time and money saving advice to help optimize every Disney family vacation experience.
Disney Family Vacation 2013 Highlights
Visit Cars Land at Night
Most families visit Cars Land at Disney's California Adventure during the day to make sure they experience all the rides. Don't miss Cars Land at night. The glow of Route 66 neon signs and the red-orange sunset on Ornament Valley make visitors stop in their tracks to capture the moment.
Recommended by Kristi Marcelle of CiaoBambino.com.
Run with Disney
RunDisney offers veteran runners and newbies alike the unique opportunity to participate in The Happiest Race on Earth, winding through the parks with fabulous surprises around every turn. From Family 5Ks to Half and Full Marathons, there's a world-class race designed for every runner. RunDisney participants and their families can enjoy a fabulous, activity-filled race weekend vacation centered around the magic of the theme parks and topped off with the accomplishment of earning that medal in The Happiest Place on Earth. RunDisney races are offered throughout the year at both Disneyland and Walt Disney World Resort.
Recommended by Amanda Ficili of DisneyParksMoms.com and DisneyGoToGirl.com.
Explore the World with Adventures by Disney
See the world with Adventures by Disney. On Disney's Peruvian adventure, families spend a week rafting down the headwaters of the Amazon, learning about handwoven Andean textiles from women carrying on generations of tradition, exploring mesmerizing Incan ruins, and eating some of the best food in South America. The same attention to detail and Disney magic that families have come to expect from Disney Parks is present on every tour thanks to an amazing team of Disney Adventure Guides.
Recommended by Sharlene Earnshaw of Trekaroo.com.
Watch Walt Disney World Fireworks from a Chartered Boat
It's a little known secret that Walt Disney World guests can charter a boat that will hold 8-10 guests that will tour Bay Lake and finish with their own private fireworks show. Audio is synchronized on board and the Captain will give families a front row seat for the show. Guests can have the boat stocked with snacks, sodas, mommy juice or even a private dinner. There's no more luxurious way to see the most magical fireworks show on earth unless you happen to be Cinderella herself.
Recommended by Kim-Marie Evans of LuxuryTravelMom.com.
Celebrate Winter at Disneyland Paris
Winter is the perfect time to visit Disneyland Paris as the park offers all kinds of deals to entice families to visit out of the peak summer season. The bonus is that lines are shorter, there is no waiting around, families access front row seats for the parades, plus Mickey and friends will have loads of time to spend the kids.
Recommended by Anna Tobin of CiaoBambino.com.
Relax and Reconnect at Aulani
At Aulani Resort families can relax and connect with a more intimate experience than the theme parks. Though there are opportunities to meet Mickey, Minnie and other characters, the overall vibe is Hawaiian luxury. Families can run and splash in the pools, or in a quieter moment explore Hawaiian culture together through fireside storytelling and activities like lei making. The included kids' club helps mom and dad create special moments together too. Just drop the kids off for a few hours and enjoy dinner at Aulani's fine dining restaurants or a couple's treatment at Laniwai, one of Oahu's finest spas.
Recommended by Debbie Dubrow of DeliciousBaby.com.
Sail Away on Disney Cruise Line
There is no better way to experience the magic of Disney than to sail away on a Disney Cruise. Families enjoy the endless opportunities to share special family moments, entertainment, onboard activities and shore excursions. Kids love the kids' club, time with characters and magical surprises around every corner. Parents love the spacious staterooms, spa, and adult-only restaurants and lounges, knowing their kids are having a blast in kids' club just upstairs.
Recommended by Anne Taylor Hartzell, HipTravelMama.com.
Never Too Young for Disney
Don't wait to go. Many parents worry that visiting Disneyland with a baby or toddler is a waste of time since the child won't remember the trip. There are, however, a multitude of rides, shows, and characters that delight Disney's youngest visitors. Whether the vacation is remembered or not, children will have an incredible time and parents can slip the sweet souvenir pictures as proof into the baby book. Besides, isn't a vacation all about living in the present moment?
Recommended by Colleen Lanin of TravelMamas.com.
Tips for Saving Time and Money on Disney Vacations
Experiencing Disney requires planning, but the extra effort is worth it. "There are all kinds of tips and tricks to experience the parks hassle-free. From mobile apps to inclusive packages, there's a growing list of ways to customize visits to help make ensure precious family vacation time is fun and wallet-friendly," says Amie O'Shaughnessy, managing editor of CiaoBambino.com.
Experience Cars Land without the Crowds
Avoid visiting Cars Land on days that have early admission "Extra Magic Hour" for Disneyland Resort hotel guests. On these days, (Monday, Wednesday, Friday, Sunday) guests can enter the park one hour before opening. This means that even if you arrive at opening time there will already be a line for Radiator Springs Racers. The Disneyland daily calendar has all the details.
Recommended by Kristi Marcelle of CiaoBambino.com.
Save money on a Good Neighbor Hotel Package
You don't necessarily need to stay at one of the three Disney hotels to get into the parks early. In 2013, Disney is offering a Good Neighbor Hotel Package, which includes park tickets, Disney souvenirs, and one Magic Morning admission.
Recommended by Colleen Lanin of TravelMamas.com.
Skip the lines with Disneyland Wait Times
Spend less time waiting in lines. Download the Disneyland Wait Times app for free to get real-time updates on the length of lines at Disneyland and Disney California Adventure's most popular rides and attractions. For $3.99 you can purchase Disneyland Magic Guide — an expanded version with restaurant menus, show times, and a food finder that makes scoring the nearest churro or corn dog easy.
Recommended by Colleen Lanin of TravelMamas.com.
Book 'Kids Sail Free' Packages on Select Disney Cruise Itineraries
In 2013, some Disney Cruise itineraries are offering "Kids Sail Free" and other special packages. With Disney Cruise Line itineraries in Alaska, Europe, and the Caribbean, families have a number of destination options for an all-family cruise. Disney's shore excursions are some of the most child-centric available. A Caribbean cruise bonus is the coveted stop at Disney's own private island, Castaway Cay.
Recommended by Colleen Lanin of TravelMamas.com.
Experience Adventures by Disney for Winter and Spring Breaks
Adventures by Disney tours are not just for summer travel. Many tours are offered during winter and spring breaks. Pricing varies throughout the year so check the Adventures by Disney website for tour pricing by week.
By Sharlene Earnshaw of Trekaroo.com.
Splurge on a Disney Property to Immerse Yourself in the Magic
When you stay at a Disney Resort property, the Disney magic starts the moment you check into the hotel. At Disneyland, a stay at the newly-renovated, iconic Disneyland Hotel, or the Grand Californian make it possible for direct access inside the park and is walkable to the parks and Downtown Disney. At Walt Disney World there are endless Disney properties at all budget levels including the new Art of Animation Hotel.
Recommended by Anne Taylor Hartzell, HipTravelMama.com.