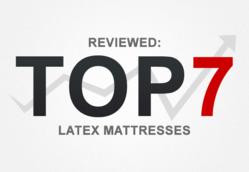 Tempe, AZ (PRWEB) February 14, 2013
As bed manufacturers and retailers compete for consumers, advertising hype often proves deceiving, especially when it comes to green products. Shoppers are faced with similar products from a variety of brand names with no clear cut way to determine which is best for their needs. Worse yet, they may not be able to find information that provides what they need to know to make a wise choice.
The latest release from industry insider Mattress Inquirer titled "Top 7 Latex Mattresses Reviewed" compares brand name mattresses with meticulous attention to set criteria guidelines carefully chosen to address consumers concerns. The blog provides an overall rank of each major latex mattress manufacturer and details the features of their mattresses in an easy-to-follow chart.
The seven brands compared included Simmons Natural Care, Stearns & Foster Luxury Latex, Sealy Embody, Astrabeds, Royalpedic, Organipedic, and Latex Bliss. Each brand was awarded a rating based on a scale of 100, with 20 points possible in five categories: consumer reviews, natural materials, transparency, availability and guarantees.
Factors weighing on results included verified reviews, informational transparency and accuracy, guarantees and warranties and the use of all natural materials. Careful attention was paid to the use of flame retardants, glues and other dangerous chemicals used in the creation of some latex mattresses, as these remain a top concern of health-conscious buyers.
Astrabeds proved the top ranking brand with 99/100. This score was achieved through the use of certified natural materials, nationwide availability, industry leading guarantees, informational transparency, and the 96% consumer rating of Astrabeds natural Talalay mattresses. The lowest ranking brand was Sealy Embody, scoring only 52/100 due to chemicals, dealer availability, varied return policies, and poor consumer reviews. The full report includes detailed explanations of the ranking and influencing factors.
By gathering and compiling information from real bed owners who are both satisfied and dissatisfied, this article provides a valuable perspective on latex mattresses. For additional research opportunities about buying latex a mattress online, the post cites resources from BestMattress-Reviews.org and MattressJournal.com, and offers a host of information reviews and news.
Mattress-Inquirer.com is an informational blog that provides relevant and recent news related to the health, sleep, and mattress industries. In addition to covering new technologies, mattress reviews and opinion pieces, readers enjoy a variety of helpful educational resources designed to aid shopping and sleep quality.