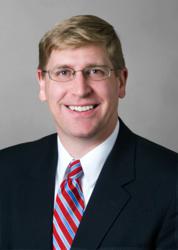 Birmingham, Alabama (PRWEB) February 12, 2013
Christian & Small LLP announced attorney Jonathan Hooks joined the firm as an associate. Hooks, a 2003 graduate of Cumberland School of Law, is a litigation attorney who focuses his practice in the areas of appellate law, securities and financial services litigation and product liability
Hooks graduated cum laude from Samford University in 2000. He graduated in the top 20% of his class from Cumberland, where he was a Scholar of Merit. He is chair of the Appellate Practice Section of the Alabama State Bar and serves on the Civil Courts Procedure Committee of the Birmingham Bar Association.
About Christian & Small LLP
Christian & Small represents a diverse clientele throughout Alabama, the Southeast and the nation with clients ranging from individuals and closely held businesses to Fortune 500 corporations. By matching highly experienced lawyers with specific client needs, Christian & Small develops innovative, effective and efficient solutions for clients. Christian & Small focuses on the areas of litigation, business and tax.
Christian & Small LLP is a member of the International Society of Primerus Law Firms.