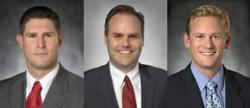 San Diego, California (PRWEB) March 04, 2013
On January 26, 2013, Neil Dymott senior associate Benjamin J. Howard was sworn in as President of the San Diego Defense Lawyers (SDDL) at the 29th Annual Installation Dinner. Mr. Howard served on the Board of Directors for 2010; was elected Treasurer in 2011 and Vice President in 2012.
Neil Dymott shareholder, Stephen T. Sigler was sworn in as Treasurer for 2013 and associate M. Todd Ratay will be a continuing member of the 2013 Board of Directors. The SDDL Board of Directors is composed of a cross-section of the defense bar, representing a makeup of large and small defense firms. The Board members have many years of litigation experience in a wide range of fields. The Directors meet monthly, to discuss issues pertinent to the defense practice and to plan events.
Neil Dymott attorneys who have been honored to serve as Past Presidents include, Robert W. Frank and Clark R. Hudson.
SDDL is an organization of lawyers engaged in the defense of civil litigants. The objectives of this organization are: to provide a forum for mutual education through the exchange of ideas with counsel in San Diego County; to promote cordial relations among its members; to promote improved public perception of its members through service to the community and to maintain the standards of professional conduct. For more information about the San Diego Defense Lawyers visit their website at http://www.sddl.org.
About Neil, Dymott, Frank, McFall & Trexler APLC
Neil, Dymott, Frank, McFall & Trexler APLC was founded in San Diego in 1964 and is a multi-service law firm with offices in San Diego, and throughout Southern California. The firm represents clients in a wide range of industries and specialty areas, including employment law, civil litigation, pharmaceutical and medical products manufacturers, transportation, intellectual property, insurance, medical, accounting and other professional practices.
Neil, Dymott, Frank, McFall & Trexler APLC is a member of the International Society of Primerus Law Firms.