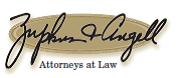 Denver, Colorado (PRWEB) February 07, 2013
On January 1, 2013, Zupkus & Angell, P.C., a law firm specializing in Insurance Defense, Construction Defect Litigation, Bad Faith, Coverage Analysis and Employment Law, raised its partnership ranks to five with the addition of Kristi Lush, Muliha Khan and Dina Bernardelli.
Ms. Lush, Ms. Khan and Ms. Bernardelli have joined existing partners Robert Zupkus and Richard Angell.
Ms. Lush's practice focuses on civil and commercial litigation. She has litigated in numerous areas ranging from construction defect to banking to employment disputes. Before entering private practice, Ms. Lush served as judicial law clerk to the Hon. Stephen N. Limbaugh, Jr. of the Missouri Supreme Court and the Hon. Whitney Rimel of the United States Bankruptcy Court, Eastern District of California. Ms. Lush obtained both her law and undergraduate degrees from Washington University in St. Louis, Missouri.
Ms. Khan practices commercial and civil litigation, focusing in the areas of insurance defense and construction defect. She has worked on a variety of cases, including: employment, SEC, appellate, and personal injury matters. Ms. Khan graduated from Colorado College with a Bachelor of Arts in History, Cum Laude and with Distinction. She earned her J.D. from the University of Denver.
Ms. Bernardelli's practice focuses on all areas of insurance defense, including construction defect, employment and personal injury law, as well as insurance coverage analysis and bad faith litigation. Ms. Bernardelli earned her J.D. at Boston College Law School, attended college at the University of Notre Dame, and is an alumna of the Office of the Prosecutor at the International Criminal Tribunal for the Former Yugoslavia in The Hague, Netherlands.
About Zupkus & Angell, P.C.
Zupkus & Angell, P.C. is located in the historic McCourt Mansion at 555 E. 8th Ave., Denver, CO 80203. The firm has been a mainstay in the Colorado legal field for more than 20 years and provides legal services to the insurance industry that include insurance defense and coverage analysis. Its employment law practice emphasizes Title VII, Americans with Disabilities Act, Family and Medical Leave Act, Fair Labor Standards Act, and related claims regarding the defense of both public and private employers. Zupkus & Angell attorneys have been employed to advise local, regional and national telecom companies regarding ways to maximize legal issue efficiencies to avoid costly and complicated litigation.
Zupkus & Angell, P.C. is proud to be the first International Society of Primerus Law Firms member in Colorado. The firm has also earned the Martindale-Hubbell AV Rating, the highest award, and is listed in the A.M. Best Directory of Recommended Insurance Attorneys and Adjusters.