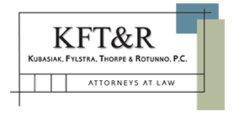 This important milestone is a reflection of the tireless work of KFTR's dedicated team of attorneys and staff, as well as a validation of the strong client partnerships we've forged over two decades
Chicago, Illinois (PRWEB) March 14, 2013
Kubasiak, Fylstra, Thorpe & Rotunno, P.C., a full-service and independent Chicago-based law firm, will commemorate its 20th anniversary on March 16.
"This important milestone is a reflection of the tireless work of KFTR's dedicated team of attorneys and staff, as well as a validation of the strong client partnerships we've forged over two decades," said Gerald E. Kubasiak, KFTR director/shareholder. "We look forward to building on this tremendous accomplishment in the future."
Since 1993, KFTR has offered complex litigation services and sophisticated transactional representation, turning problems into solutions. With extensive resources to address virtually any type of business or liability matter, the firm is able to integrate its legal team's skills, knowledge and experience to achieve creative solutions with superior results.
KFTR's experienced attorneys have earned a reputation for representing client interests ethically and economically. To accomplish this, KFTR maintains close working relationships with its clients and pairs the firm's areas of experience with client needs.
Founding members Gerald E. Kubasiak and Raymond A. Fylstra, both director/shareholders, remain an active part of the firm's leadership. Steven J. Rotunno, who joined the firm soon after it started, also is a KFTR director/shareholder. The firm, which started with seven lawyers two decades ago, now includes 16 lawyers.
"KFTR is a microcosm of the transformation experienced by law firms during the past two decades," Fylstra said. "But three things have set KFTR apart and driven its success: We're independent, we've kept to our core mission – skillfully representing entrepreneurs in all business and personal legal and tax-related issues – and the original team remains with us today."
For more information, please visit http://www.kftrlaw.com. Kubasiak, Fylstra, Thorpe & Rotunno, P.C., is a member of the International Society of Primerus Law Firms.