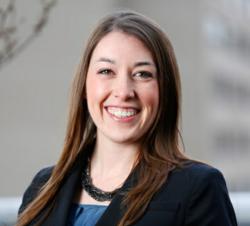 Lexington, Kentucky (PRWEB) March 27, 2013
Fowler Bell PLLC is pleased to announce that Laura Salzman has joined the law firm as an associate practicing in Commercial Litigation and Collections.
Ms. Salzman provides her clients with thorough and thoughtful work that leads to the best resolution, whether it is in the courtroom or through out of court settlement. Ms. Salzman holds a Political Science undergraduate degree from Northern Kentucky University and her Juris Doctorate is from the University of Kentucky School of Law. She also voluntarily serves with the Fayette County Foster Care Review Board.
About Fowler Bell PLLC
Fowler Bell is Kentucky's commercial, bankruptcy and litigation law firm known for finding practical solutions to complex matters. Based in Lexington, it serves business clients throughout the Commonwealth and the U.S. It is known for handling complicated financial matters, especially in the areas of bankruptcy and creditor rights, complex litigation and mediation, insurance defense, real estate and collections.
Beyond their substantial experience and professional expertise, Fowler's attorneys are widely respected for their integrity, responsiveness and wise counsel. They take a no-nonsense approach to finding solutions and resolving conflicts. They offer guidance, reassurance and results to clients facing tough business or personal challenges.
Fowler Bell PLLC is a member of the International Society of Primerus Law Firms.