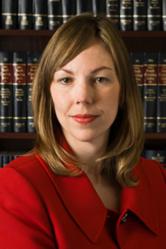 Raleigh, North Carolina (PRWEB) March 26, 2013
Teague Campbell Dennis & Gorham, LLP (TCDG) is pleased to announce that partner Carrie E. Meigs has been invited to join the prestigious Claims and Litigation Management Alliance. The CLM is a nonpartisan alliance comprised of thousands of insurance companies, corporations, Corporate Counsel, Litigation and Risk Managers, claims professionals and attorneys.
Through education and collaboration the organization's goals are to create a common interest in the representation by firms of companies, and to promote and further the highest standards of litigation management in pursuit of client defense. Selected attorneys and law firms are extended membership by invitation only based on nominations from CLM Fellows.
Carrie is an experienced trial attorney, having tried dozens of cases to verdict throughout North Carolina. She focuses her practice now on the defense of catastrophic injury and death cases and particularly on the defense of professionals. In addition to defending cases of alleged malpractice against all types of health care providers, Carrie also has an active practice defending dentists, oral surgeons, physicians and nurses before their respective licensing boards. Carrie represents various local hospitals in civil litigation including professional and general liability matters and also advises them with respect to health law matters. She also has experience representing health care providers in administrative agency matters arising from Medicaid billing investigations.
Carrie also has a focus on the defense of premises liability matters, with a particular emphasis on cases arising from allegations of negligent security measures. She acts as outside counsel to several large self-insured corporations and advises them on these issues. Carrie has spoken on the topic of liability for the criminal acts of third parties, including speaking at the Primerus Defense Institute Convocation and at the Southeastern Claims Conference in 2011.
About Teague Campbell Dennis & Gorham, LLP
Teague Campbell Dennis & Gorham, LLP is a Raleigh, NC based law firm that assists and defends employers, business owners and insurers with workers' compensation claims, employment disputes, accident and injury claims, and contract and general business law issues. As a dedicated defense firm, TCDG is able to provide a more personalized service that is not often found in larger, more generalized firms. In addition, the firm remains on the cutting edge of North Carolina appellate law, having appeared as counsel of record in many of the landmark decisions that have defined the basic tenets of North Carolina law as it relates to the areas of civil litigation and workers' compensation.
TCDG and its attorneys have won numerous awards and have been named as industry leaders. The firm's excellence in advocacy, ethics and integrity has led to its selection as a member of the Claims & Litigation Management Alliance and its acceptance into the International Society of Primerus Law Firms. In addition, Teague Campbell was chosen to be, and remains, the sole North Carolina firm in the National Workers' Compensation Defense Network.