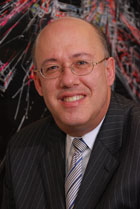 This appointment is an honor and the Committee intends to be a 'cutting edge' resource for educating New York attorneys on all aspects of social media and becoming a leading force in addressing social media issues in the litigation context
New York, New York (PRWEB) March 13, 2013
Ganfer & Shore, LLP, a New York City law firm, is proud to announce that Mark A. Berman has been named co-chair of the Social Media Committee of the Commercial and Federal Litigation Section of the New York State Bar Association
Mr. Berman is a partner in the Commercial Litigation Practice Group at Ganfer & Shore. Mr. Berman has extensive experience in representing private and public companies, as well as partnerships and individuals, in court and in arbitral forums, in complex commercial matters, with an emphasis on real estate and securities disputes, electronic discovery conflicts, and complex title insurance issues. Mr. Berman has written and spoken on electronic discovery issues before the American Bar Association, the New York State Bar Association and the New York State Judicial Institute, as well as at Brooklyn Law School and Benjamin N. Cardozo School of Law. He is a member of New York State E-Discovery Working Group advising the New York State Unified Court System. Since 2005, Mr. Berman has had a column in The New York Law Journal addressing electronic discovery under New York State law.
"The Committee on Social Media is one of the first of its type in the country," stated Mark Berman. "This appointment is an honor and the Committee intends to be a 'cutting edge' resource for educating New York attorneys on all aspects of social media and becoming a leading force in addressing social media issues in the litigation context."
The mission of the Committee on Social Media is multi-faceted and includes:

Using social media to promote the work of the New York State Bar Association, the Commercial and Federal Litigation Section and the Committee on Social Media by providing Section members current information about the Section, including CLEs and important legal developments.
Educating Section members about the risks and benefits of using social media as part of their law practice and their professional obligations in using social media, including ethical, disciplinary and malpractice issues.
Educating Section members about "best practices" concerning preservation and collection of social media for use in litigation and investigations, types of social media and its discoverability, and use of social media to prosecute and defend a case.
Organizing and sponsoring CLEs.
Monitoring legislative developments.
Addressing appropriate corporate policies.
About Ganfer & Shore, LLP
Manhattan-based Ganfer & Shore, LLP, home to nine partners, two "of counsel," and twelve associates with offices located in Manhattan, and New York City, is a significant force in the fields of commercial and securities litigation and real estate law.
Since the firm's founding in 1979, Ganfer & Shore has offered the skill, quality service, and sophistication of a large law firm with the responsiveness and efficiency of a small firm.
A wealth of experience and outstanding talent: these are Ganfer & Shore's strengths that continue to attract clients including Fortune 500 companies, major real estate investors, and other leading law firms.
One of the key advantages Ganfer & Shore affords its clients is efficient staffing of client matters—a small concentration of formidable skills where such skills are needed most.
Ganfer & Shore, LLP is a member of the International Society of Primerus Law Firms.