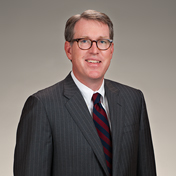 I look forward to this new adventure working alongside the skilled, talented and dedicated Collins & Lacy team
Columbia, South Carolina (PRWEB) March 28, 2013
Collins & Lacy, P.C. announced Mike Pitts has been elected managing partner of the statewide business defense law firm. Mike is an employment attorney with the firm.
"Mike is dynamic and dedicated to upholding the mission, vision and values of Collins & Lacy," said Stan Lacy, who co-founded the firm in 1984 with Joel Collins. "We believe his roots in the Upstate community will bring a unique perspective to our firm's commitment to effectively and efficiently serve businesses and citizens throughout the entire state of South Carolina."
Mike has spent most of his career helping businesses with labor and employment matters and complex commercial cases, and he is experienced in litigation and arbitration, as well as management counseling. He also practices in commercial litigation, professional liability and municipal law.
"I look forward to this new adventure working alongside the skilled, talented and dedicated Collins & Lacy team," said Mike Pitts. "Our firm will continue to deliver top-notch service in defense of South Carolina businesses."
Mike graduated with distinction from The University of North Carolina at Chapel Hill, where he was made a member of Phi Beta Kappa. Mike received his Juris Doctor from The University of South Carolina School of Law. He was a member of the South Carolina Law Review and was inducted into the Order of the Wig and Robe. Mike has been honored as one of the Best Lawyers in America for his work in labor & employment litigation and employment law management.
Mike says his main priority is continuing to strategically grow Collins & Lacy to serve the needs of the Palmetto State "while at all times remaining true to our core values and a client-first philosophy."
About Collins & Lacy, P.C.
Collins & Lacy is a defense litigation firm in South Carolina that delivers valuable legal representation for their clients through solid preparation, thorough execution, and client-oriented service aimed at success. With many offices throughout the state, including Columbia, South Carolina, the firm represents local, regional and national clients in the areas of construction, employment law, hospitality/retail and entertainment law, insurance/bad faith, products liability, professional liability, commercial transportation and workers' compensation. Collins & Lacy is committed to upholding the highest standards for integrity, civility and community service.
Collins & Lacy, P.C. is a member of the International Society of Primerus Law Firms.