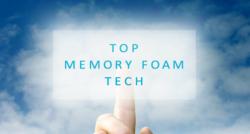 (PRWEB) February 28, 2013
The bed industry continues to evolve into new directions as mattress composition, design and the incorporation of new technologies have led to improvements that were unimaginable just a few decades ago. Just among memory foam mattresses, there are several different variations that each attempt to claim top spot.
All of these brands and claims can prove difficult to compare however. In an effort to provide shoppers with current information, Best Mattress Reviews has released an article reviewing and comparing the top three types of memory foam. The post, titled, "Top Memory Foam Mattress Technologies Reviewed" shows how the top three types, traditional, plant-based and gel-infused compare when addressing common complaints such as trapping heat and releasing odor.
It begins by explaining the benefits and advantages common to all types of memory foam, including comfort, relief of pain from pressure points, motion isolation, contouring and durability. The post then delves into complaints and concerns.
The first issue is offgassing, an issue connected to traditional memory foam mattresses. Comparisons drawn from plant-based memory foam and with the unknown factor of gel-infused memory foam equip the reader to determine which is least likely to release dangerous chemicals.
Heat retention concerns are next to draw attention, with thorough explanations of past and current complaints regarding traditional memory foam. With the extreme open cell foam developed through plant-based technologies, this type has shown to sleep cooler than either traditional or gel-infused. The post also highlights current news and studies involving coolness and claims.
Ease of movement is the final issue addressed, a complaint from owners of traditional memory foam caused by a slow response time of up to 60 seconds. This can create a feeling of being trapped or stuck, and make getting out of bed difficult. While gel-infused foams prove a little faster, plant-based memory foam from Amerisleep makes a big improvement, offering a 5-8 second recovery rate.
The comparison ends with a chart borrowed from Mattress-Inquirer.com to allow readers to compare each memory foam mattress technology comparison at a glance. In summary, BestMatttress-Reviews.org compares the performance and consumer satisfaction rates for brands representative of the top three types, identifying Amerisleep.com's plant-based memory foam mattress as the best option.
BestMattress-Reviews.org is a blog dedicated to providing mattress and sleep product information. On the blog, independent industry professionals provide expert opinions and recommendations backed by research and customer reviews. The website aims to make the buying and research process a little simpler by collecting and analyzing information in a digestible, enjoyable format.