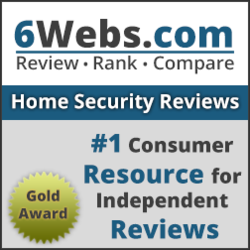 Compare the leading home security systems providers on 6Webs.com.
Boston, MA (PRWEB) March 19, 2013
6Webs.com, the leading consumer resource for unbiased home security systems reviews releases their rankings of the top home security companies with monitoring services. This is the second year that 6Webs.com has published their reviews and comparisons to consumers who are in the market to purchase a home security system. To view the detailed comparisons of the leading home security system providers, please visit 6Webs.com at:
http://www.6webs.com/home-security-systems-reviews/
Tim Smythe of 6Webs.com stated, "The 2013 home security systems reviews were interesting as FrontPoint Security managed to win the Gold Award two years in a row. The 6Webs.com home security experts gave FrontPoint Security high marks for their monitoring services and customer service records. The top companies all shared similar characteristics as far as customer service and the safety and reliability of monitoring services are concerned."
At the top of the list of home security companies is FrontPoint Security. FrontPoint Security furnishes their customers with wireless home security systems and 100% cellular monitoring services. FrontPoint Security maintains and outstanding customer service record. They are accredited with the Better Business Bureau (BBB) and maintain an A rating.
In second place is Protect America who won the 6Webs.com 2013 Silver Award. Protect America offers their customers easy to install wireless home security systems with a range of equipment packages to choose from. Protect America offers some of the best prices in the home security industry and has been in business for over 20 years.
About 6Webs.com
6Webs.com publishes annual reviews of the top home security system providers that offer home security monitoring services. Focused on providing unbiased and independent reviews, 6Webs.com also publishes educational information to help consumers lead a safer and more security lifestyle. Articles like "How Much Does ADT Cost" are published on their website and provide details on monitoring and pricing plans offered by ADT Security.