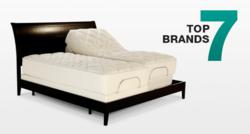 Tempe, AZ (PRWEB) March 12, 2013
Adjustable beds are proving to be a very popular item in 2013, and as people consider purchasing one they often want to compare the different brands available. The Best Mattress Brand blog recently took a look at seven of the top brands selling adjustable beds and just released the results in a new article titled "Review of Top 7 Adjustable Bed Brands."
The article outlines the factors used in the ratings and provides detailed comparisons of the following brands and retailers, in alphabetical order: Amerisleep, Costco, Craftmatic, Golden Rest, Sleep Comfort, Sleep Number, and Tempurpedic. Information for the article was drawn from product websites, as well as third-party sources like review websites and forums.
Best Mattress Brand begins by explaining their methodology and the factors used in their assessment. Scores for consumer ratings reflect averages from consumer opinion sites and verified owner reviews. Price scores reflect costs relative to features and competitors. Health benefits measure the frequency and extent that people mentioned benefits and the availability of comfort-enhancing features like massage or zero-gravity. Durability scores reflect product construction and certification while warranty scores address the duration of full coverage and policy transparency.
An included comparison chart details the rankings in an easily accessible format, providing the results at a glance for those who may not be interested in reading the full article. Each adjustable bed brand was given a score on all five factors, which was then averaged to a total score. The blog utilized a 5 point scale, with 5 being best. As a group, the brands ranged from 4.5-2.6 out of five in overall ratings.
The article goes on to introduce each brand and break down the ratings. Both positives and negatives are addressed for readers curious as to why a brand received each score. Best Mattress Brand crowns the top ranking brand overall as Amerisleep with an overall score of 4.5/5. The post specifically mentions their Ergo Invincible adjustable bed with excellent consumer ratings of 4.7/5 stars from over 20 verified reviews.
Product research and comparisons offer helpful insight for shoppers concerned with getting the best value. This guide from Best Mattress Brand provides a detailed introduction to the brands prospective shoppers are likely to consider, and addresses important issues like transparency in warranties and pricing, as well as how durability and features factor in to value.
BestMattress-Brand.org is a mattress review blog designed to provide information to mattress shoppers. With a mission to make bed shopping easier, editors provide unbiased assessments of manufacturer claims and customer satisfaction. The blog also features industry news and brand reviews based on first and third party research, and offers weekly newsletters for subscribers.