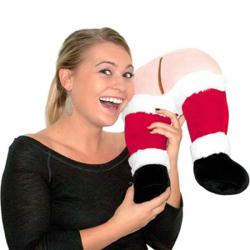 Santa's Farting Butt Travel Pillow is just a gas of a gift. There's no better sleep than between Santa's Cheeks!
Los Angeles, CA (PRWEB) November 29, 2012
The holidays have long been a time for traditional gift giving – but what about shoppers searching for a weird and unusual gift to give to those on their list?
Stupid.com, internet retailer of novelty gifts and silly stocking stuffers, surveyed over 2,000 members of their online customer base in order to answer that exact question.
The result is the web-based company's 6th annual ranking of the Top 10 Stupid Holiday Gifts of 2012. This year's list features an assortment of unique gifts under $20, each more wild and absurd than the next.
"Our accountants are scratching their heads this year," says Jim Kalmenson, president of Stupid.com. "The more ridiculous the gag gift, the greater the sales volume."
Topping the people's choice is Santa's Farting Butt Travel Pillow, a neck pillow in the shape of Santa's rosy rear that "toots" loudly when his cheeks are squeezed.
Here is the list of the Top 10 Stupid Holiday Gifts of 2012, listed in order of popular vote:
Santa's Farting Butt Travel Pillow - A pillow in the shape of jolly old St. Nick's buns, this unique gift is sure to crack up any sleep-deprived toilet-humor, enthusiast as it farts loudly and explains, "Smells like Christmas!"
Tattoos for Babies - Body art for infants may seem a bit racy for most parents, but these removable tattoos make giving your baby a killer tattoo fun!
Toilet Claus "Ugly" Holiday Sweater – Wear one of these cheerful holiday sweaters, which has Santa sitting on a toilet emblazoned on the front, and you're sure to turn heads.
Red Neck Wine Glass - Break out the moonshine! These glasses, with the top of a mason jar and the bottom of a wine glass stem, are sure to class-up that next fish fry or jamboree.
Mullet-on-the-Go- Enjoy the elegance and sophistication of a mullet anytime with an instant mullet and a totally rad headband.
Emergency Underpants - Give the gift of security this holiday season! It may sound strange, but these cleverly concealed undies are perfect for when disaster strikes.
The Kama Pootra - This 115-page book is perfect bathroom reading material and stocking stuffer for men. With positions like the "One Cheek Lean" and "The Captain", you'll reach toilet-time nirvana in no time.
Santa's Drinking Hat - Strap two cans of beer to the sides of a hat, and you've got one heck of a merry old time, with this intoxicating headpiece.
Silly Screaming Snowballs - These loud, plush balls, available in 8 different styles, ranging from Snowman to Yellow Snow, make indoor snowball fights a reality.
The WTF Button - Similar to an "Easy" button, the WTF Button is a big red novelty gift, that lets loose a sweet "WTF!" when pressed.
All these gifts and more can be purchased at Stupid.com and select gift shops nationwide.
About Stupid.com:
Since 1998, Stupid.com has been spreading laughs around the world, one funny gift at a time. Today, with over 2,000 unique gag gifts and 200 crazy shopping categories, the company is the online industry expert in finding the most outrageous handpicked stupidity on planet earth, and bringing it to the masses. Stupid.com – Shop for Laughs!