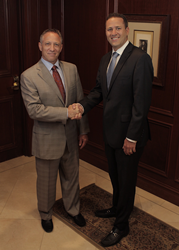 PARKLAND, Fla. (PRWEB) August 13, 2019
Baker & Zimmerman, a leading personal injury law firm in South Florida, has rebranded itself Zimmerman & Frachtman. The new name reflects the firm's continued leadership under Founding Partner Bob Zimmerman and an elevated role for Partner Joshua Frachtman.
Since co-founding the firm 25 years ago, Zimmerman has expanded it into a dozen offices throughout South Florida that have delivered more than $440 million in settlements and verdicts for its clients.
No other staff changes are taking place at any level, ensuring a completely seamless transition for all clients and members of the team.
Frachtman, who was named partner in 2016, is widely considered a rising star in the personal injury arena, having amassed deep experience on a wide range of cases involving catastrophic automotive injuries, wrongful death, and other personal injury cases.
"I could not be more thrilled to welcome Josh into the leadership of our firm," said Zimmerman. "Like the entire team at Zimmerman & Frachtman, he is relentless when it comes to assisting our clients and ensuring that they receive the justice and restitution they deserve."
Before cementing his reputation as one of the nation's top civil trial attorneys, Zimmerman was an officer in the Navy Judge Advocate General Corps at the rank of Lieutenant, and received the National Defense Service Medal and Navy Commendation Medal for his service in Operation Desert Storm.
Zimmerman is well-known today for being an active and philanthropic member of the local community. The firm proudly supports the Anthony Rizzo Foundation created by the local baseball standout who became a World Champion with the Chicago Cubs. The firm also supports In Jacob's Shoes, which ensures that underprivileged children have appropriate footwear that enables them to go to school prepared and with dignity. In addition, each holiday season the firm invites the community to a benefit celebration of the iconic holiday lights that adorn the firm's building.
Frachtman, born and raised in South Florida, is a graduate of Marjory Stoneman Douglas High School, the University of Florida, and Nova Southeastern University Law School.
"It is truly a dream come true to join Bob in leading a local business that has served so many people within the very area where I grew up," said Frachtman, who lives in Parkland with his wife and two young children. "Through Zimmerman & Frachtman I will have the opportunity to step into a larger role, not only here at the firm, but also in this community we all love."
About Zimmerman & Frachtman:
Zimmerman & Frachtman is South Florida's leading personal injury law firm. Over the past 25 years, the firm's trial attorneys have recovered more than $411 million in verdicts and settlements on behalf of our clients. While we are quite proud of our past accomplishments, we remain true to the ideals of compassion, tenacity, consistency, discipline and respect for others. We look forward to achieving results for our present and future clients with unwavering commitment to our ideals.