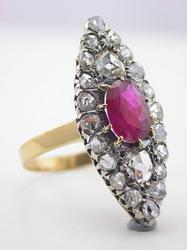 Topazery's vintage and antique jewelry pieces are decades old, so any impact the extraction of their metal and gemstones may have had on the earth is a thing of the distant past.
Atlanta, GA (PRWEB) April 24, 2013
As the world comes together in celebration of Earth Day 2013, the online jewelry boutique Topazery takes great pride in supporting the holiday's climate change agenda … today and every day. All of the vintage and antique rings, necklaces, earrings and pins Topazery Jewelry carries contain decades-old gold and gemstones. As a result, these jewelry elements bear no negative impact on the environment.
On its 43rd anniversary, Earth Day is calling attention to The Face of Climate Change. More than one billion people worldwide are expected to come together this year in a united front in support of this mission. Unfortunately for jewelry lovers, the gold and gemstones they covet can be in direct odds to this fight against global warming agenda.
Indeed, the mining of gold often relies on the usage of toxic chemicals like mercury. According to the United States Environmental Protection Agency, the artisanal and small-scale gold mining sector is "responsible for the largest releases of mercury to the environment of any sector globally." What's more, small scale gold buying and refining facilities "are a major cause of air pollution from mercury." But gold isn't the only jewelry-related contributor to air pollution and its resulting climate change.
While the University of Vermont admits that "gemstone extraction is often less offensive to environmentalists than equivalent gold mining because it does not rely on the usage of any toxic chemicals like mercury, gemstone mining often does have serious environmental ramifications." In particular, the "use of oil powered pumps, drills and other machinery … causes air pollution and contributes to global warming."
"Many of the vintage and antique jewelry pieces in Topazery's inventory are decades or even a century or more old," explains the online jewelry boutique's spokesperson, Jan Walden. "As a result, any impact the extraction of their metal and gemstones may have had on the earth is a thing of the distant past."
One such Topazery item combines the pure gold and precious gemstones jewelry lovers desire without any of the environmental impact a brand new version of it would. The Earth Day showcase piece, a Victorian Antique Ruby Ring dating back to 1870, came into being long before Earth Day terms like climate change and eco-consciousness ever entered the American vocabulary. It features 18k gold, an oval faceted mixed cut ruby and a collection of rose cut diamonds, all of which can be worn free of the guilt that their mining has contributed to damaging the environment.
For more information on how to indulge fine jewelry cravings without harming the environment, contact Jan Walden at (678) 528-8901. To browse Topazery Jewelry's full line of Earth Day-friendly vintage and antique jewelry pieces, visit the company online at http://www.topazery.com/.