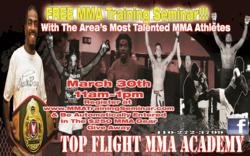 Belcamp MD (PRWEB) March 21, 2013
Alright MMA fans in the Harford, Cecil, and Baltimore Area, next Saturday, March 30th, Top Flight MMA Academy will be opening the doors to the public to take part in a MMA extravaganza, the likes of which have never been seen before.
The evolution of MMA has grown to include many facets of martial arts disciplines and with popular MMA promotions like the Ultimate Fighting Championship UFC, Bellator, and the World Series of Fighting (WSOF) the public has grown in knowledge and fascination with MMA. And to really break down and shed light on techniques, 3 talented Pro MMA fighter will be running the seminar.

Middle weight MMA champion and Harford County resident, Ron "ChoirBoy" Stallings
WKA national champion and Shogun Fights standout, Marshall "The Unknown Warrior" Thompson
AAA State wrestling champion and div I college wrestler, J.C "Concrete" Cuffee
Top Flight athlete, Ron Stallings, had this to say about the upcoming seminar, "I'm excited to share with everybody some of my special techniques. Since moving in to our new facility we've a lot of great things going on. We have people living their dreams, becoming successful MMA competitors, getting in shape, and adding more purpose to their lives. So to celebrate and to educate all the MMA fans in the area, I wanted to have a extravagant seminar and open it to the public for free. We are going to show how to apply slick striking combos, sick submissions, elite level wrestling, the whole nine yards! I've even put in a special request for J.C to show his patented graby roll, and double leg takedown, and for Marshall to show his infamous leg locks, at least one of them. MMA fans definitely don't want to miss out on this".
Registration for the free seminar is at http://www.MMATrainingSeminar.com where attendees can enter in for $250 MMA gear give away.
Event info:
March 30th from 11am-1pm, open to the public ages 13 and up.
at Top Flight MMA Academy in Belcamp, Maryland