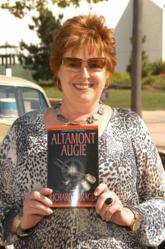 For the smart self-publisher, To Press & Beyond is the perfect solution: all the decision advantages and control, and a built-in editorial, production and marketing team. -- Dan Poynter
Santa Barbara, CA (PRWEB) September 08, 2011
"State of Mind" by Sven Michael Davison clinched two awards: best book trailer and best e-book cover. "Altamont Augie" a debut novel by Richard Barager, was a finalist in the best book trailer category.
To Press & Beyond founder Gail Kearns attended the award ceremony in Santa Barbara to pay tribute to her clients' successes. Kearns and her "A" team of experts guided Davison and Barager through much of the challenging publishing landscape, saving them time and keeping them on track every step of the way.
Calling themselves Book Sherpas, To Press & Beyond provides valuable assistance to independent authors and publishers as well as self-publishers. From identifying and helping to develop author and book platforms to editing a manuscript and giving advice on cover and interior book design and eventual distribution, they consistently find the best solutions and will tailor a traditional and social media marketing plan that includes the obvious and the hidden gems, bringing a client's title to the right opinion makers and ideal buyers.
To Press & Beyond has worked with clients nationally and around the world—from China to Switzerland to London and from small towns in Northern California to Chicago and the Big Apple—including memoirists, a poet from Israel, a sports mom, psychologists, children's book authors, journalists, fiction writers and motivational speakers.
With a million books published each year, how does an author get noticed? "It's about strategic planning. They have to work hard to get there and avoid numerous pitfalls along the way. To Press & Beyond works hard to get them noticed with a strong publicity campaign that also utilizes social media to stay ahead of the curve," says Kearns.
Books of all genres, shepherded by To Press & Beyond, have received other awards, such as the prestigious Independent Publisher's Award, The Benjamin Franklin Award, Foreword's Book of the Year Award, and USA "Best Books" Awards Sponsored by USA Book News.
###