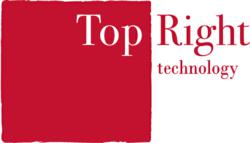 Technology is transforming the job of the Chief Marketing Officer
Atlanta, GA (PRWEB) September 12, 2012
TopRight Partners, a leading strategic management consultancy, announced today that Mark Landi has joined their executive team as Managing Partner. Mark will head TopRight's newly formed Technology practice that helps businesses drive organic growth and optimize marketing performance by leveraging technologies across marketing functions.
According to Dave Sutton, Founder of TopRight, "Mark is a proven leader who brings a unique blend of management consulting expertise, deep knowledge of software technology and experience as a Fortune 100 sales and marketing executive. We are thrilled to have him on board to lead our fastest growing practice and extend our capabilities and solutions to serve our clients."
TopRight launched the technology practice in response to the challenges that businesses face in today's increasingly complex, distributed and digitally driven environment, where marketers need to better integrate and manage data, creative resources, brand assets, go-to-market functions, best of breed solutions, and customer experiences.
Mark Landi added, "TopRight's strength and reputation for providing strategic marketing guidance to some of the most well-known companies is world class. TopRight Technology is a natural extension of offerings for our clients, to help them select, deploy and utilize the right technologies to streamline business processes, automate key marketing functions, provide effective measures and insights, and keep customers engaged."
Mark has over 20 years experience as a consultant and business leader including executive roles with prestigious companies such as IBM, Oracle, Booz-Allen & Hamilton, and BTG. He joins TopRight from Acumen Consulting Partners, Inc. where he served as Managing Partner, providing strategic consulting and insightful leadership to large enterprises and entrepreneurial start-ups for growth strategies, go-to-market plans and the optimal use of information technology as a key enabler to drive business results.
About TopRight Partners
TopRight is a strategic marketing consultancy combining creative strategy, innovative analytic techniques and enabling technologies to yield actionable insights and drive business performance. TopRight helps clients accelerate growth and market effectiveness by bringing prominent management consultants, Fortune 500 marketing executives and senior practitioners together to apply expertise and proven methodologies -- from strategy to execution, to streamlined business & marketing processes, to leveraging world class technologies. With headquarters in Atlanta and corporate offices in Washington, DC and Chicago, TopRight's client list is broad and impressive, consisting of many Global 500 companies and enterprises including American Red Cross, Boeing, Coca-Cola, Delta, Eli Lilly, JP Morgan Chase, and Sonic Healthcare.