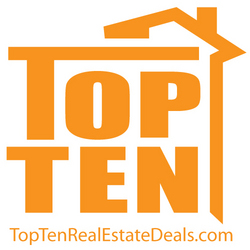 South Bend, IN (Vocus) June 30, 2010
TopTenRealEstateDeals.com is putting a unique and comedic spin on real estate deals by hiring Comedian Tracy Smith to provide the weekly real estate write-ups.
"I'm happy to be part of the "Top Ten" team. It's giving me something better to do with my time than to break hearts at the "Plenty of Fish" dating site," jokes Tracy.
She has several television credits including late night appearances on NBC and her own half hour special on Comedy Central. Tracy has lived in Canada, Florida, Virginia, New York and Los Angeles; and is now writing her weekly column from her many movable locations on the road where she performs live stand-up in clubs.
"We are very excited to have Tracy on the team. Tracy offers an exciting approach to promoting real estate deals. We hope the entertainment factor will provide deeper general market penetration and increase our percentage of readers who might not be ready to buy/sell a home, yet" says Jason Wakefield, the Marketing Director for TopTenRealEstateDeals.com.
One can view Tracy's Top Ten bio page at http://www.toptenrealestatedeals.com/topTenWriter.php
TopTenRealEstateDeals.com covers the most interesting, unusual, famous and best deals for homes that are currently on the market. Every week they list the Top 10 home and condo deals across the United States. Many of their features have been picked up by some of the biggest media outlets in the United States including Yahoo, CNBC, The Wall Street Journal, and more.
TopTenRealEstateDeals.com also features weekly the Top 10 homes for sale in the U.S., Top 10 dollar and percent discounts, Top 10 upcoming home auctions, and the Top 10 regional bargains in over 25 U.S. cities.
Top 10 lists are free to media outlets for publication.
Contact:
Jason Wakefield
Marketing Director
TopTenRealEstateDeals.com
###