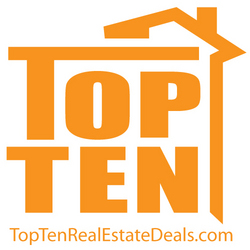 (Vocus) June 30, 2010
Are you a home owner or a real estate agent with an unusual, famous or historic home for sale? Did George Washington sleep there? Did any Martians ever visit? Is the home made out of beer bottles or Slurpee cups? Is it an underground home, a cave house or built in a tree?
Could it be a candidate for TopTenRealEstateDeals.com annual Top 10 Beach, Golf, Ski, Romantic or Coolest Homes lists? Or is it just a really spectacular home that people would like to see?
If so, TopTenRealEstateDeals.com wants to hear about it.
TopTenRealEstateDeals.com covers the most interesting, unusual, famous and best deals for homes that are currently on the market. Every week they list the Top 10 home and condo deals across the United States. Many of their features have been picked up by some of the biggest media outlets in the United States including Yahoo, CNBC, The Wall Street Journal, and more.
If you have a special home or condo, send a link and a brief description to TopTenRealEstateDeals.com and you may soon see your listing on one of their specialty lists. It is free.
Their latest list is the 2010 Coolest Beach Homes list and can be viewed at:
http://www.toptenrealestatedeals.com/homes/featured/2010/the-top-ten-coolest-beach-homes-for-sale/
TopTenRealEstateDeals.com also features weekly the Top 10 homes for sale in the U.S., Top 10 dollar and percent discounts, Top 10 upcoming home auctions, and the Top 10 regional bargains in over 25 U.S. cities.
Top 10 lists are free to media outlets for publication.
Contact:
Jason Wakefield
Marketing Director
TopTenRealEstateDeals.com
press(at)toptenrealestatedeals(dot)com
###